Rating:
Japanese Restaurant Category

(I've gone back several times)
Sushi Category

(I would love to go back)
I love this Japanese restaurant in London because it serves many dishes that Japanese love but aren't usually served in other Japanese restaurants in London. This restaurant is not a fancy Japanese restaurant, but is like old cozy authentic Japanese casual izakaya (tapas bar) in Japan; it might be too authentic that it may be hard to fully enjoy this restaurant without Japanese friend. If you can't go with Japanese friend, ask Japanese waiter and/or waitress for today's recommendation and Japanese sake (rice wine) that goes well with the recommended food. Try fish Japanese tapas dishes. Sushi is also great!
Related Page: London Japanese Restaurant Ranking by Japanese
Today's menu written only in Japanese on blackboard
There are printed standard menu, with ordinary Japanese dishes served in London like edamame, sushi etc., but the best way to enjoy this restaurant is to order from today's menu, only written in Japanese on blackboard. It contains many small Japanese tapas dishes that are not usually eaten in London, but go well with Japanese sake.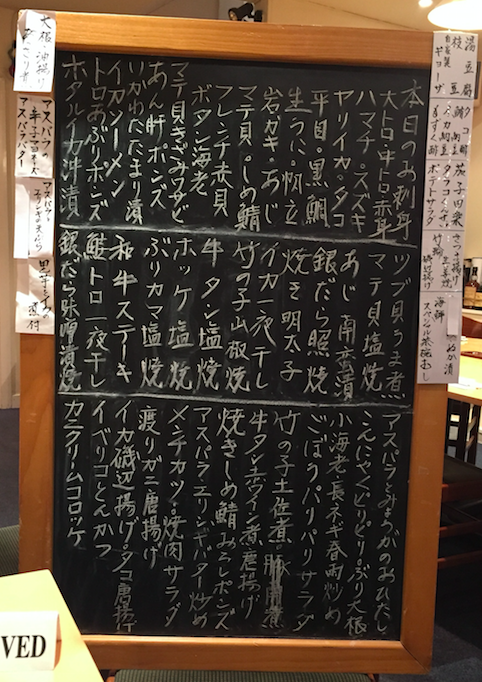 Today's menu on blackboard
Usually, they put sashimi of the day and many cooked fish dishes on the blackboard.
When I first went to Sakana-Tei, I was very delighted to see this menu because it contained typical Japanese dishes that I miss. There are too many dishes that I want to eat!


Followings are what I have tried before: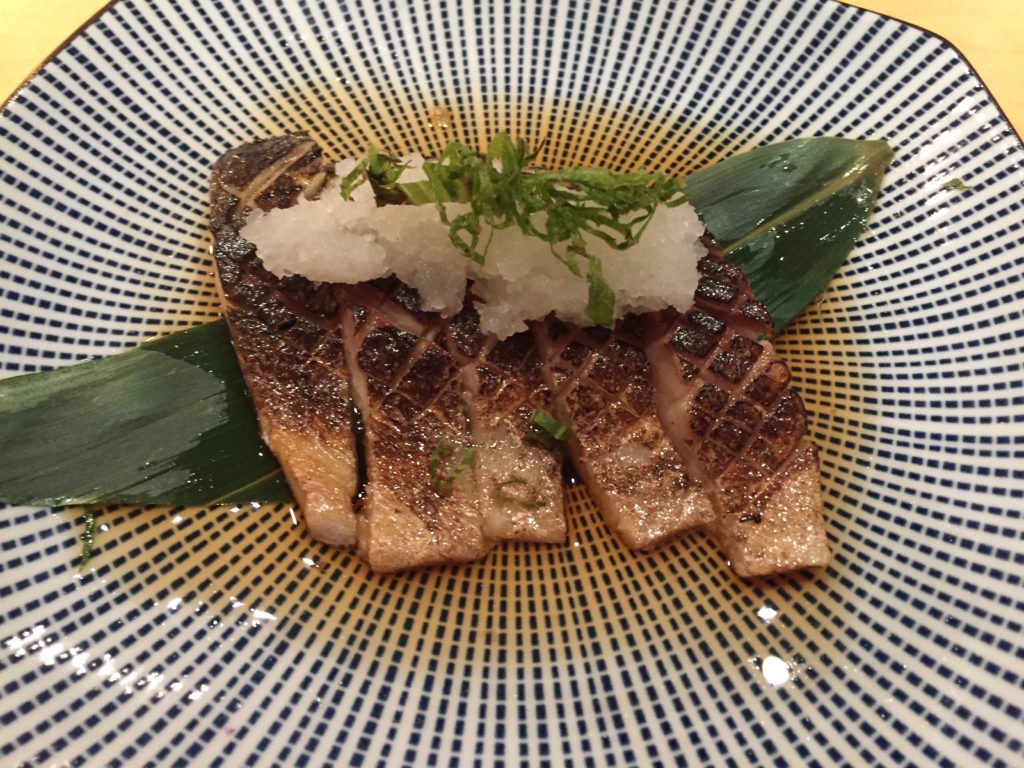 Grilled vinegared mackerel in radish ponzu sauce
Japanese people also eat a lot of mackerel.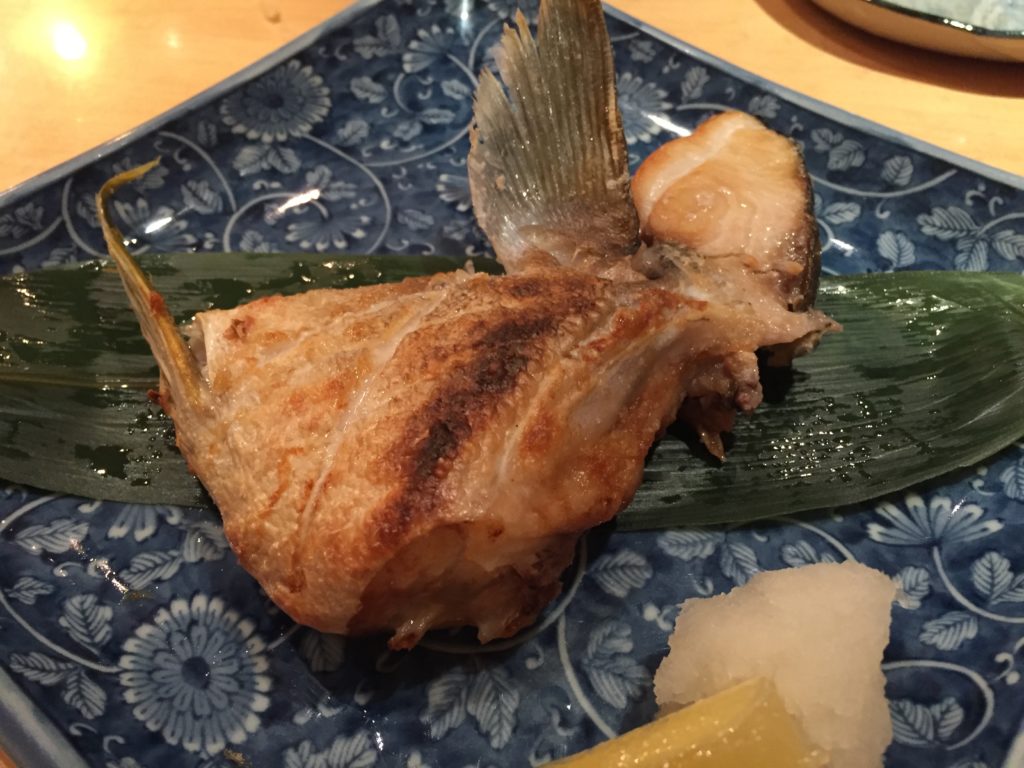 Grilled salted buri kama (yellowtail collar)
Kama is a meat around cheek of fish. It contains a lot of bones, but it is one of the best part of fish because its meat is very juicy. Using chopsticks, you need to dig the fish meat out of bone and eat little by little. Buri kama goes well with Japanese sake.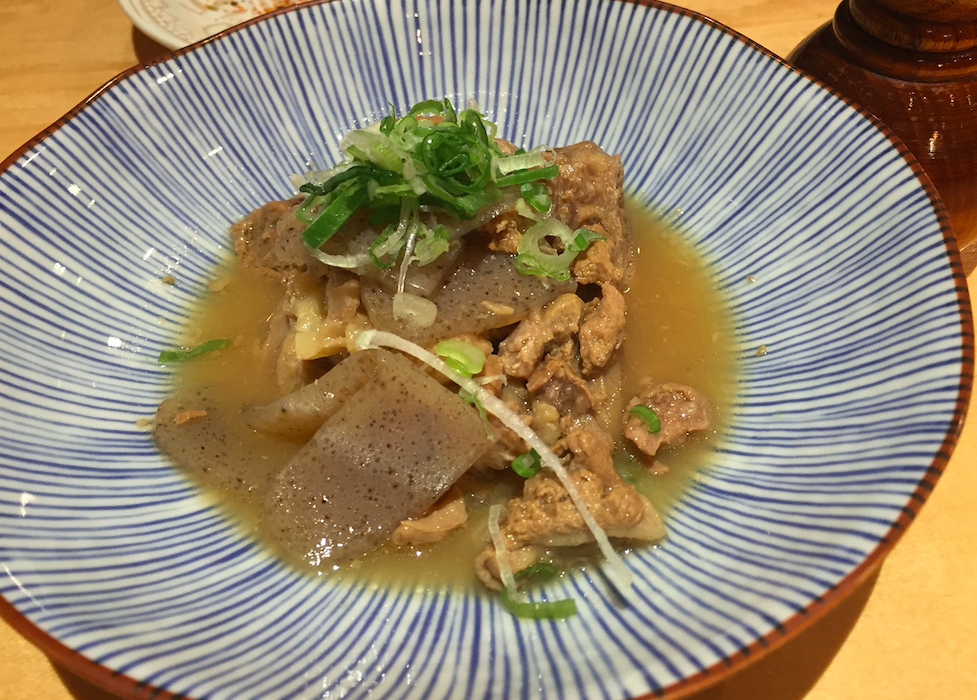 Stewed beef tendon with konjac
Beef tendon is not usually eaten in UK, but it is usually eaten in Japan. It usually simmered for hours to make the tendon very tender. Konjac is also not eaten in UK, but it is often eaten in Japan. Konjac is jelly and regarded as healthy food in Japan because it is low-calorie and fiber-rich.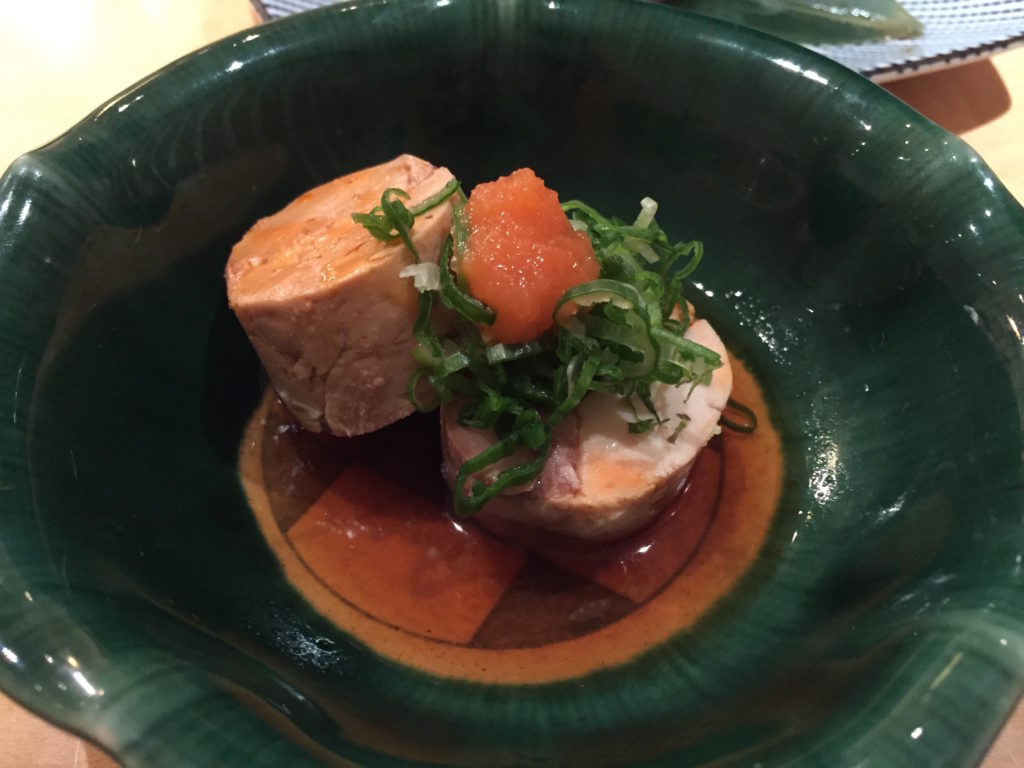 Ankimo (monkfish liver) in ponzu sauce
This dish is also not served often in Japanese restaurants in London. Since ankimo has little bit strong flavor, eat ankimo little by little with Japanese sake like eating cheese with wine!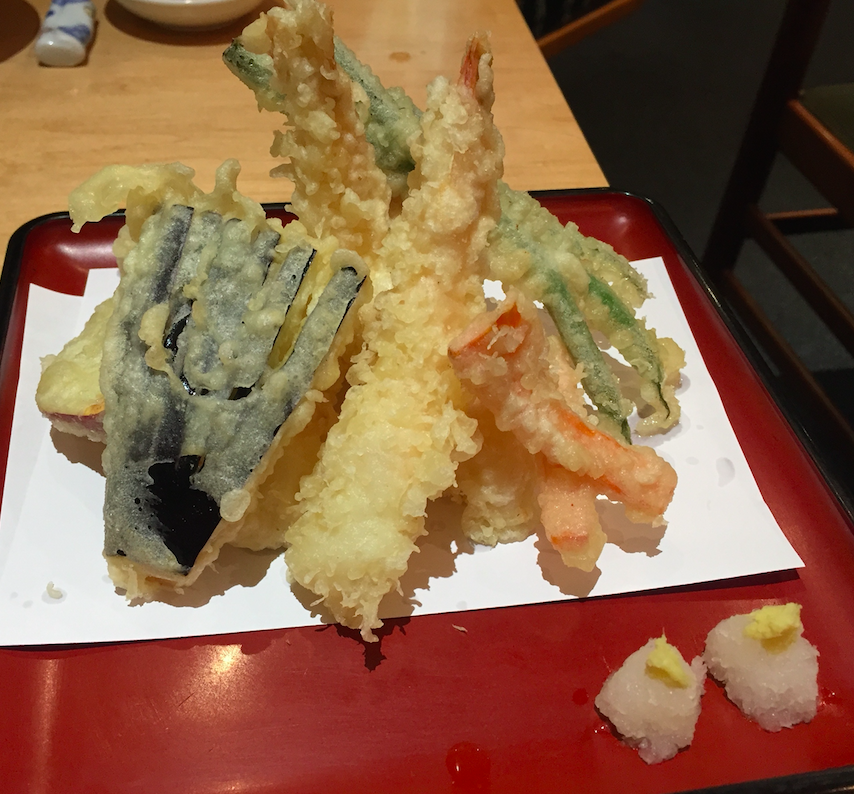 Assorted Tempura
Sakana-Tei's Tempura is very crispy.

Ask waiter/waitress for today's special, and try the best fish of the day to fully enjoy this restaurant.
There is also sushi counter, and sushi is also great quality
Ground floor is sushi counter, and quality of sushi is also great at Sakana-Tei. Considering that it is located very close to Oxford Circus station in the city center, I believe its very reasonable price.
If you have hard time ordering Japanese dishes from today's menu on blackboard, just try sushi and sashimi. Compared to other sushi restaurant, I especially love Sakana-Tei's tuna because its flavor is very strong, and I can enjoy the taste of tuna.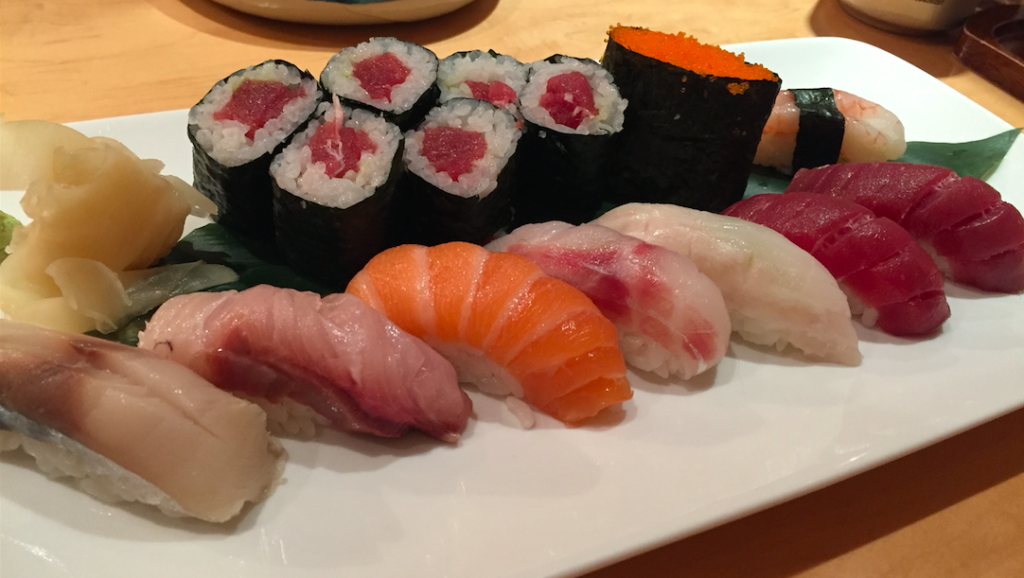 Assorted Sushi
Lunch is also reasonable price
Sushi (following picture) with miso soup and seasonal fruits is priced less than 20 pounds! I cannot believe that authentic Japanese sushi with this quality in the city center is priced this low! There is also today's menu for lunch, too.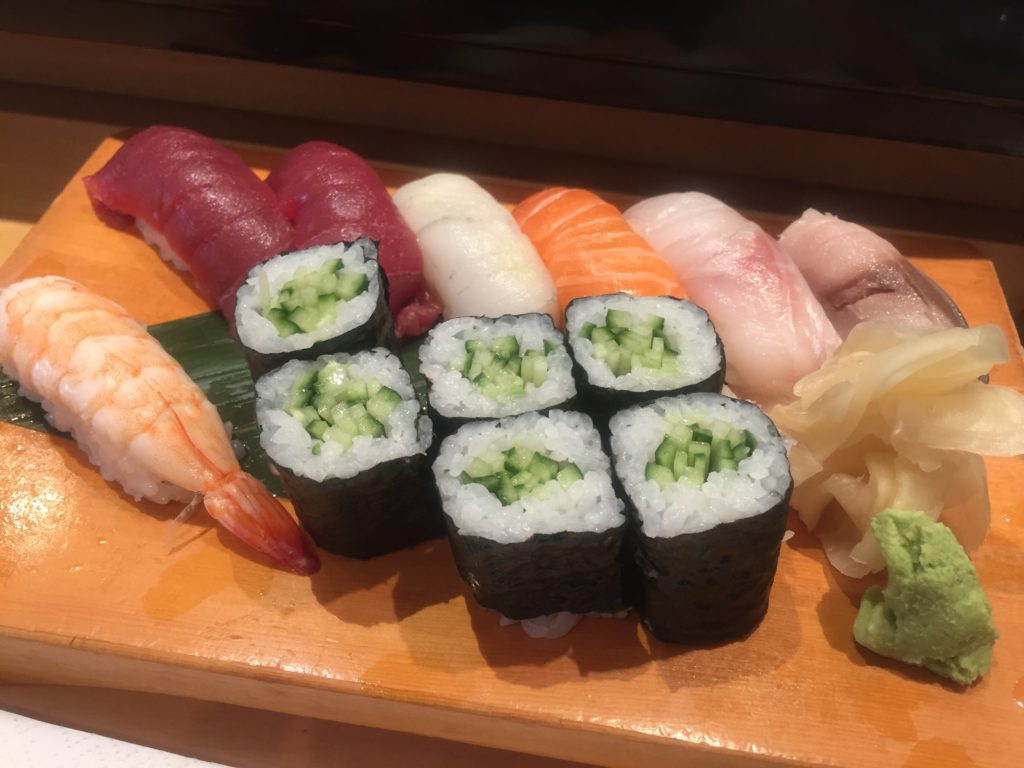 Sushi Lunch

As you can imagine from pictures, it is not a fancy place but very authentic Japanese. I would explain this restaurant as "for Japanese by Japanese" but I believe this restaurant is fun to explore for local people too, because you'll be able to encounter many Japanese dishes that you have never seen before. If you have Japanese friends, take them with you, let them pick what they want to eat, and try whatever they pick!
Dinner is usually full with reservation, so make sure to make a reservation in advance.
Basic Information (as of 15 Oct, 2018)