You Can Eat and Purchase Okinawa Local Food and Souvenirs
When I travel around the world, I love to visit local market because I can learn about many local products. Makishi Public Market in Naha, Okinawa, Japan, is interesting market even for Japanese because there are many products not familiar in main islands of Japan.
You'll find so many kinds of colorful Okinawa typical fish, and you can also purchase meat, vegetables, and other Okinawa local food and souvenirs. Fun part of this market is that you can eat fresh fish you purchased in the market in the food court located inside the Makishi Public Market.
Ground Floor: Market Full of Okinawa Products
There are many seafood, meat, processed food, vegetable, liquor, and other local speciality shops inside Makishi Public Market. It is great place to see the vibrant Japanese market.
Since Okinawa is located southernmost and has tropical climate, it has many colorful fish and other food that are not familiar even to Japanese.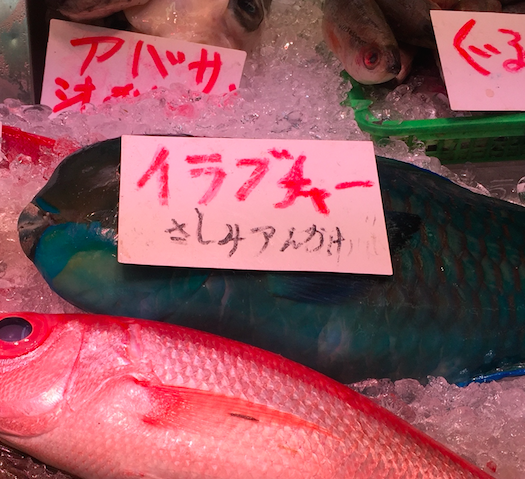 Blue parrot fish (irabucha) is one of the Okinawa fish. Recommended for sashimi (raw fish) and/or ankake (fried fish with ankake sauce).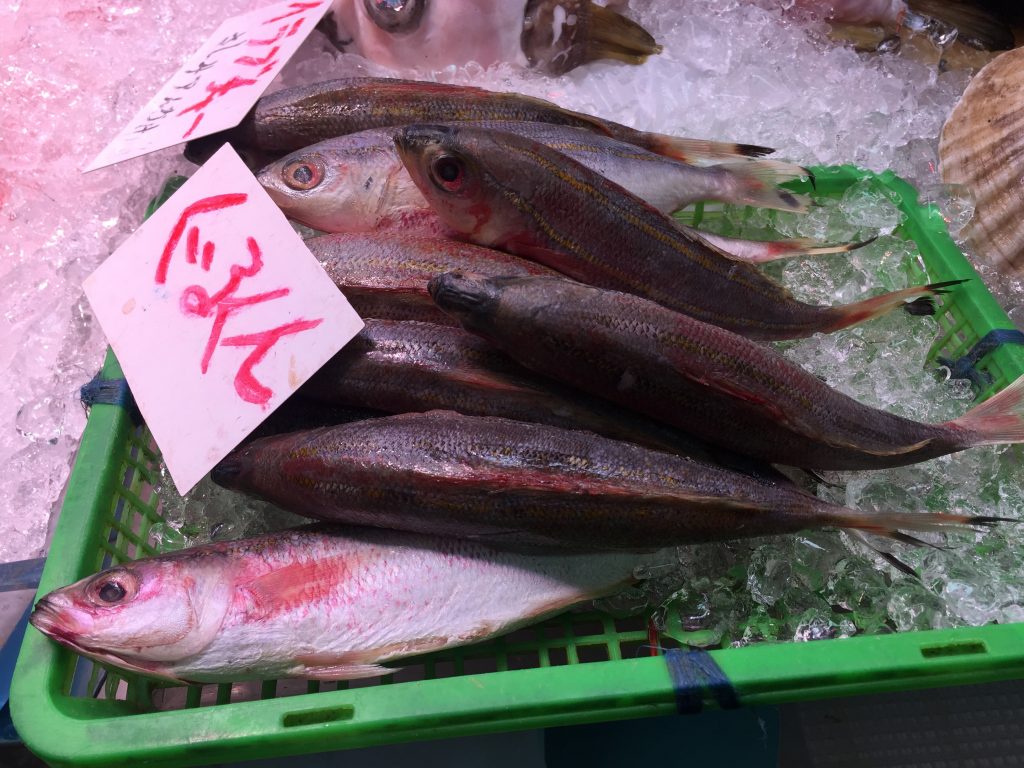 Gurukun is registered as a representative fish of Okinawa Prefecture. Recommended for fried fish, shioyaki (grilled with salt), and/or sashimi (raw fish).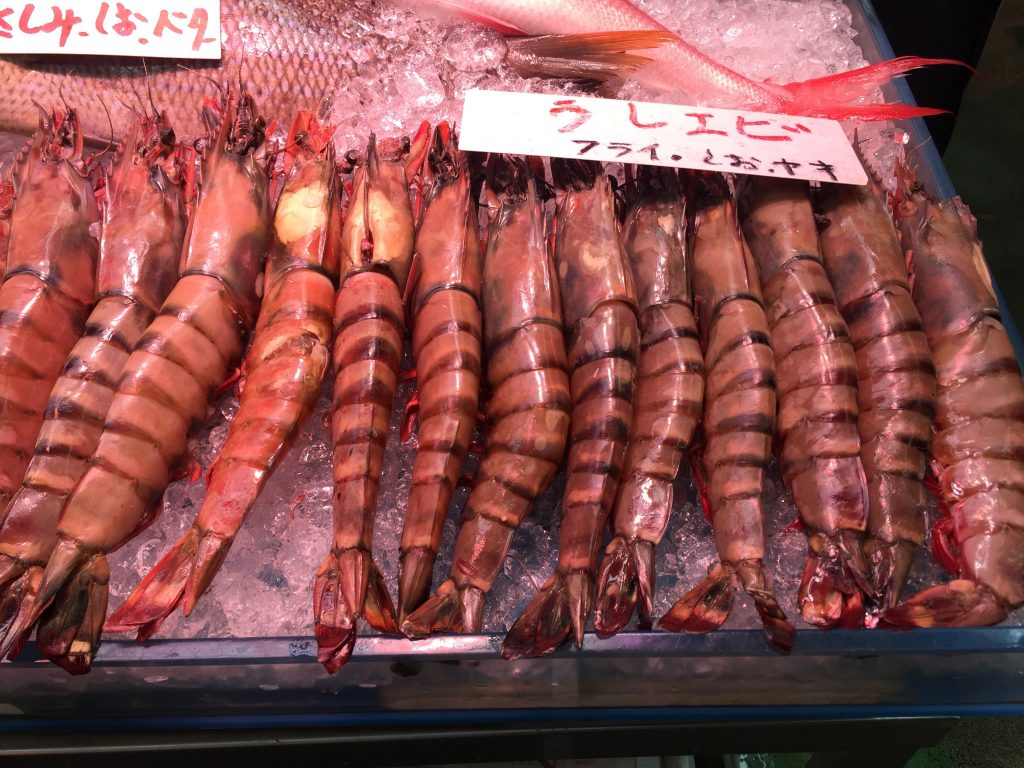 The big prawns are black tiger prawns widely eaten in Asia, and are called "ushiebi" in Okinawa. Recommended for shioyaki (grilled with salt) and/or fried prawn.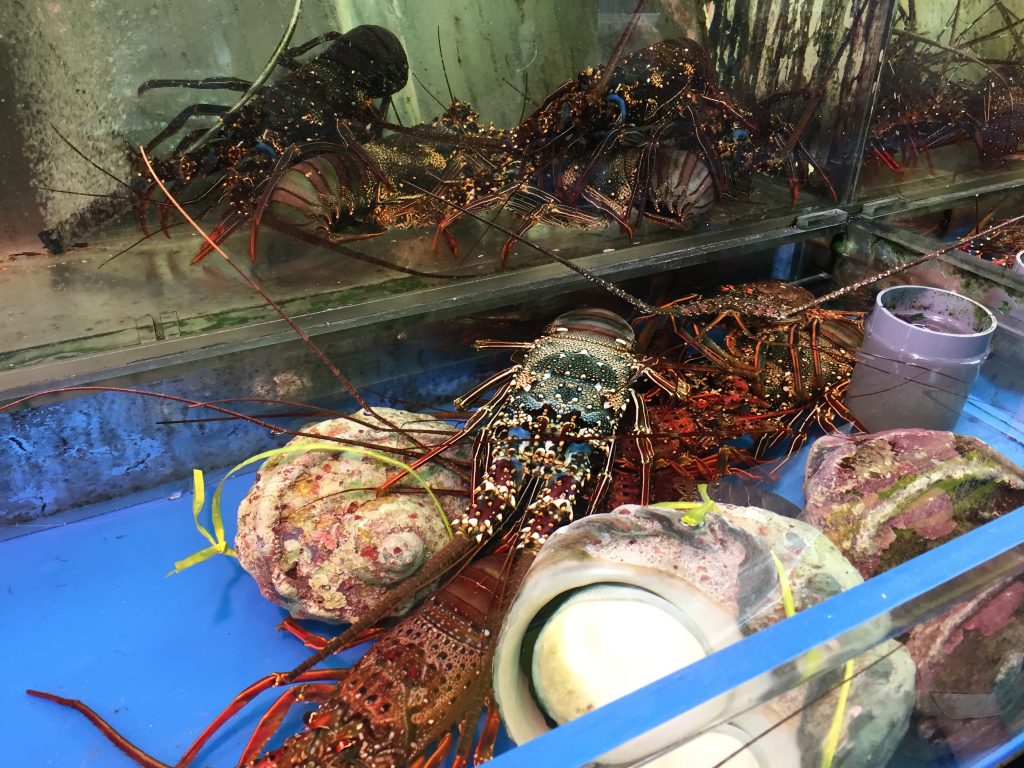 There are a lot of shellfish, too.
Related Post: 13 Food & Drink You Must Try in Okinawa, Japan
Upper Floor: Food Court Where You Can Eat Purchased Fish
The upper floor is mainly food court. Some restaurant will cook the fish you purchased downstairs. (There are prepared dishes, so you don't need to purchase on the ground floor to eat. It's up to you.)
Some of the dishes I ate with the fish purchased downstairs were…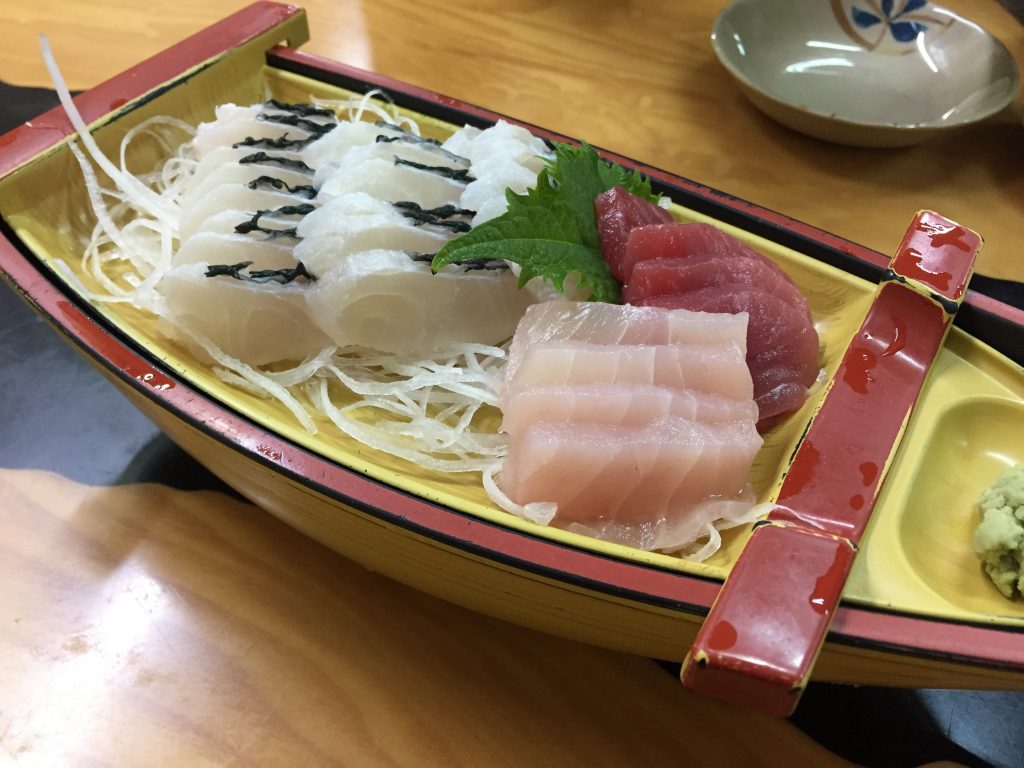 Assorted sashimi (raw fish) – Sashimi sliced on the left with blue skin is irabucha (blue parrot fish).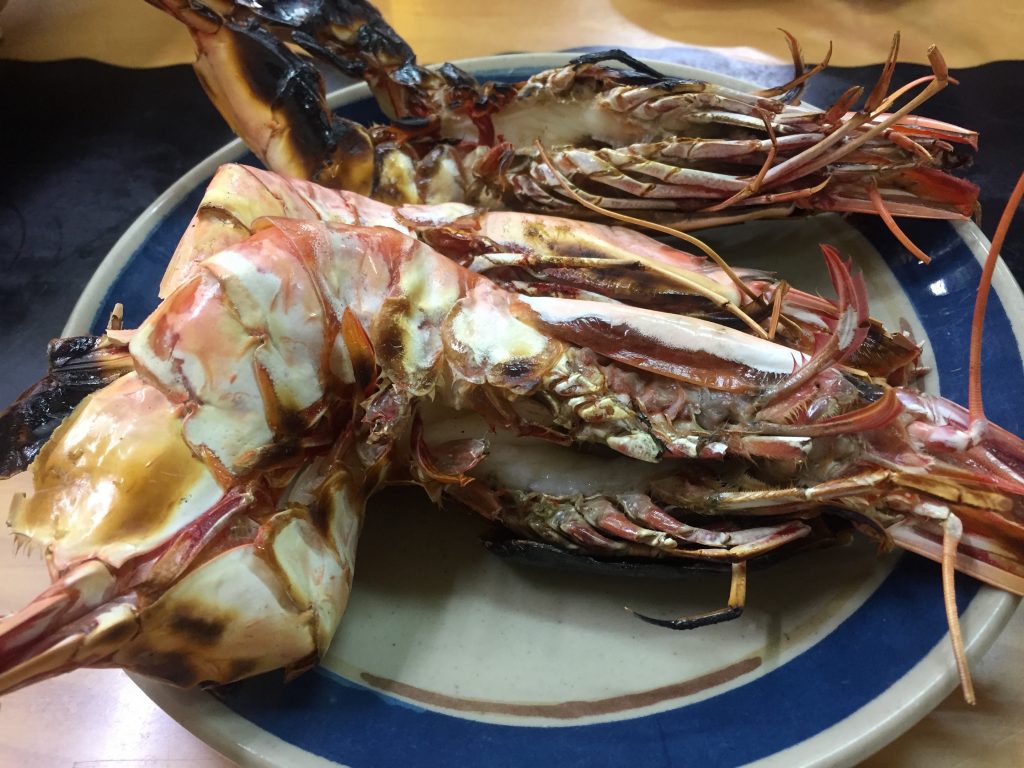 Ushiebi shioyaki (grilled tiger prawn with salt)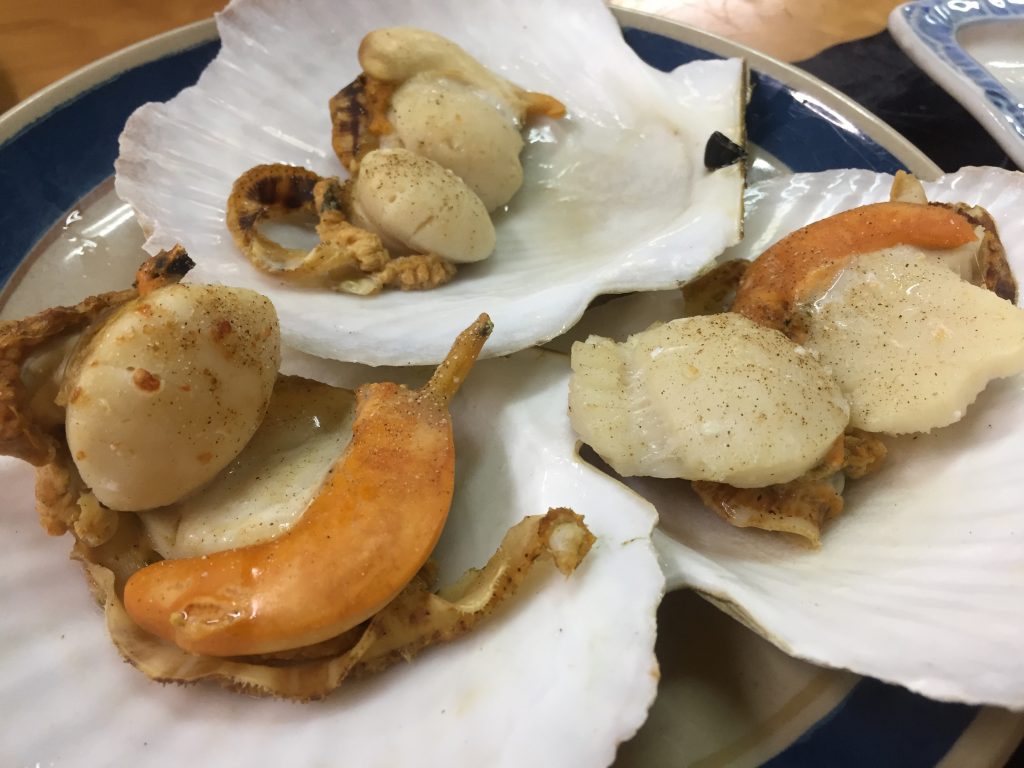 Grilled Scallops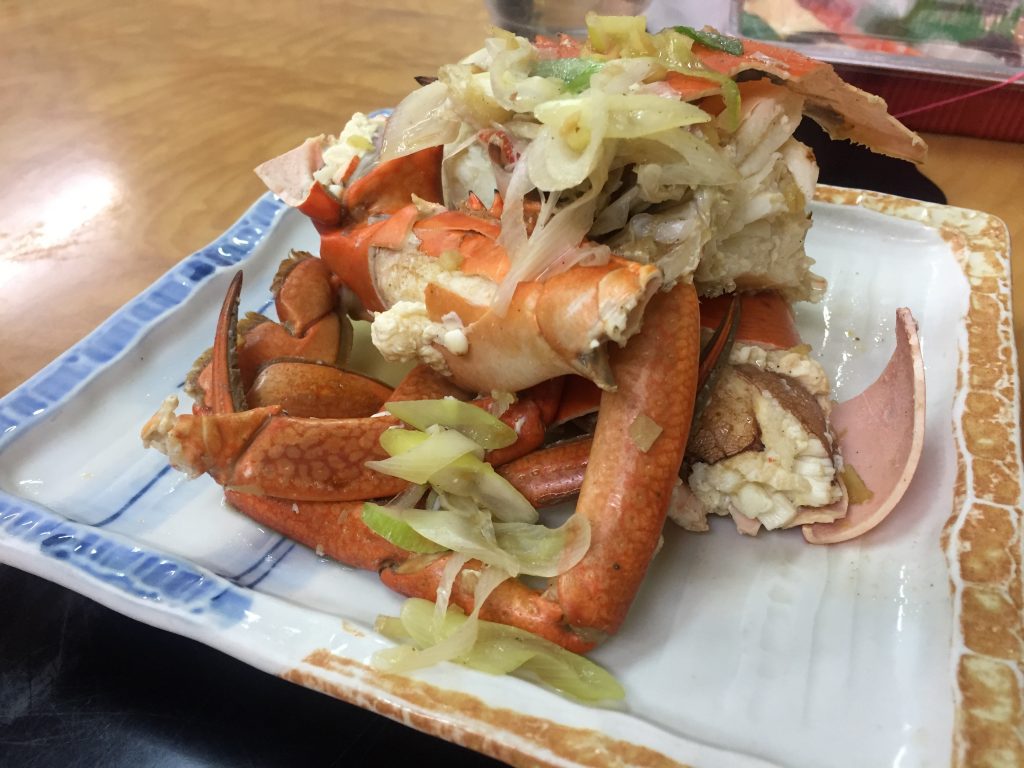 Stir Fried Crab
Access
Makishi Publish Market is located close to International Street ("kokusai-dori (国際通り)" in Japanese) known as souvenir and restaurant street in Naha, Okinawa, Japan.
It may be little hard to find because entrance is so small, but detail is in the official website: https://kosetsu-ichiba.com/en/