Rating:

(I would love to go back)
Authentic Wagyu from Japan at Reasonable Price in London
I see a lot of overpriced, poor quality wagyu in London, but at Tokyo Sukiyaki-Tei, you can eat authentic wagyu from Japan in Japanese ways (sukiyaki, shabu shabu, and/or yakiniku (Japanese BBQ)) at reasonable price. You can also enjoy prestigious authentic Kobe beef, too!

Related Page: London Japanese Restaurant Ranking by Japanese
What is Wagyu?
Authentic Japanese wagyu is 100% wagyu breed, which only existed in Japan until few decades ago. Now that wagyu raised all around the world, there are many non-100% wagyu sold as wagyu outside of Japan. In addition, most Kobe beef is said to be fake outside of Japan, because Kobe beef is sometimes used as synonym of wagyu. Authentic Kobe beef is a prestigious branded wagyu beef which must have raised in Japan and have beautiful marbling. Restaurants that serve Kobe beef need to be certified by Kobe Beef Marketing & Distribution Promotion Association; Tokyo Sukiyaki-Tei is of course registered.

Learn more about wagyu at Wagyu Authentic, my another website that explains all about wagyu!
Two Types of Hot Pot: Sukiyaki & Shabu Shabu
In Japan, we often eat "nabe (hot pot)" especially in the cold winter. We share one hot pot together with family and/or friends. Sukiyaki and shabu shabu are types of very popular hot pot in Japan, often eaten in special occasions.
Sukiyaki served at Tokyo Sukiyaki-Tei is exactly Japanese style. In a soy sauce based soup stock, we cook vegetables and beef.
First, you will have hot pot ready in front of you.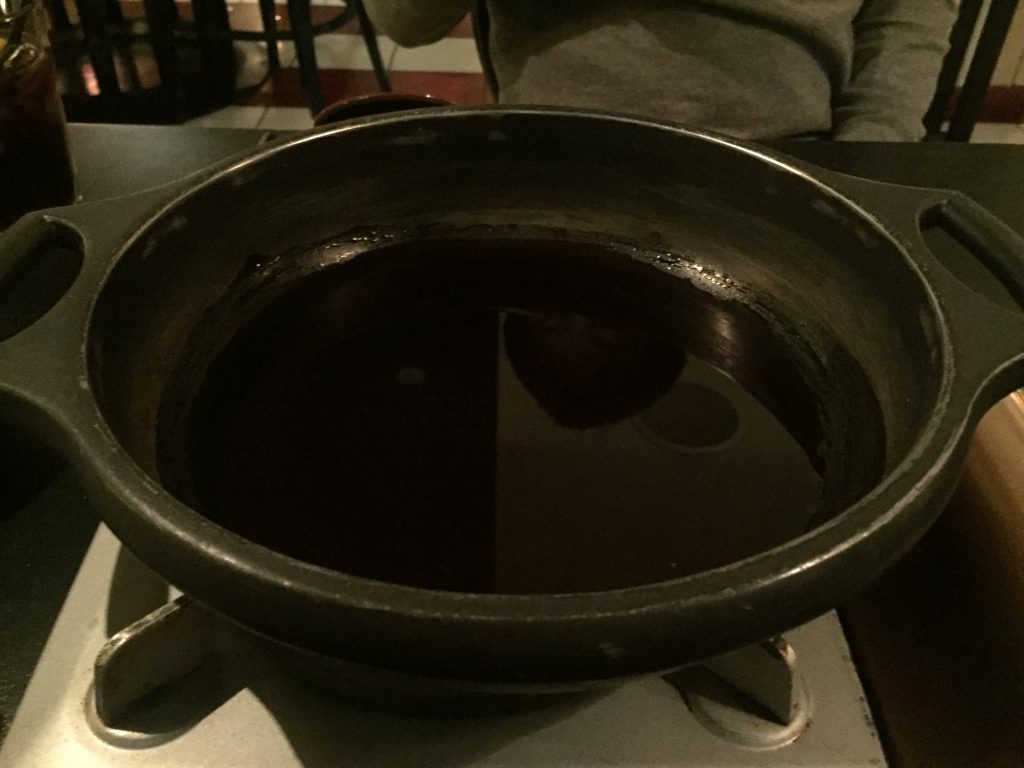 Then, raw vegetables and wagyu beef will be served. Look at the beautiful marbling! Wagyu in the picture is the cheapest less marbling wagyu served at Tokyo Sukiyaki-Tei, but it is still very marbled!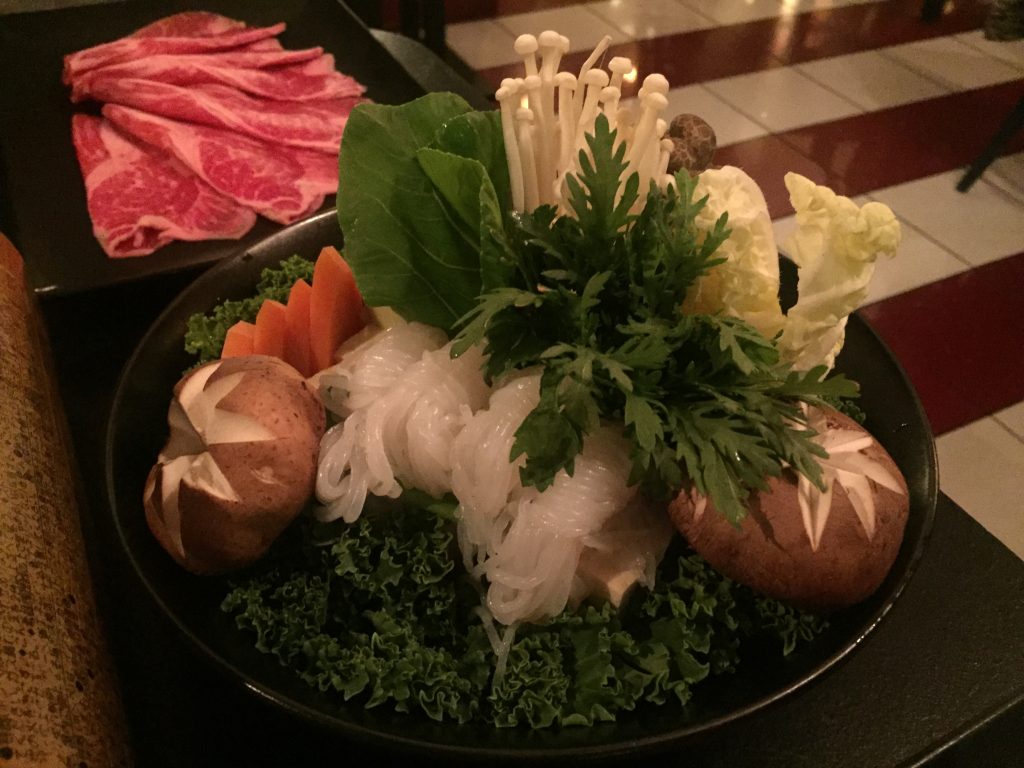 Vegetable in the picture is for two people. Wagyu beef is for one person.

You can cook for yourself, or if you don't know how to cook, waiter will help you!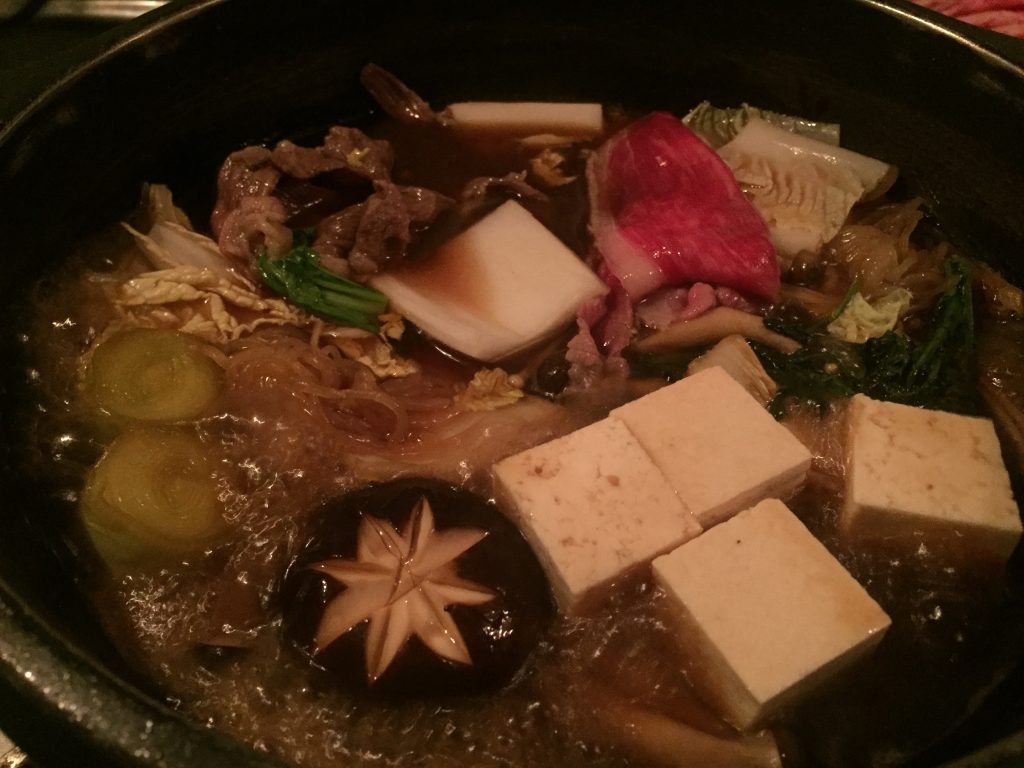 Before you eat, dip in to stirred raw egg. Enjoy!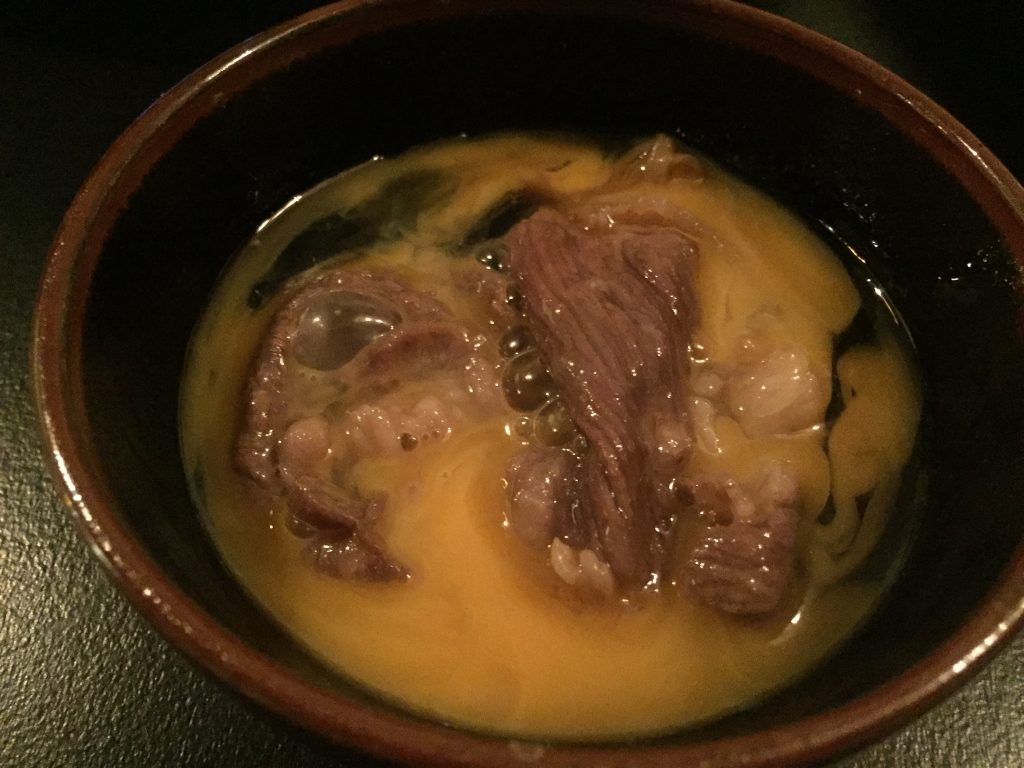 At the end, you can either choose to have noodle or rice.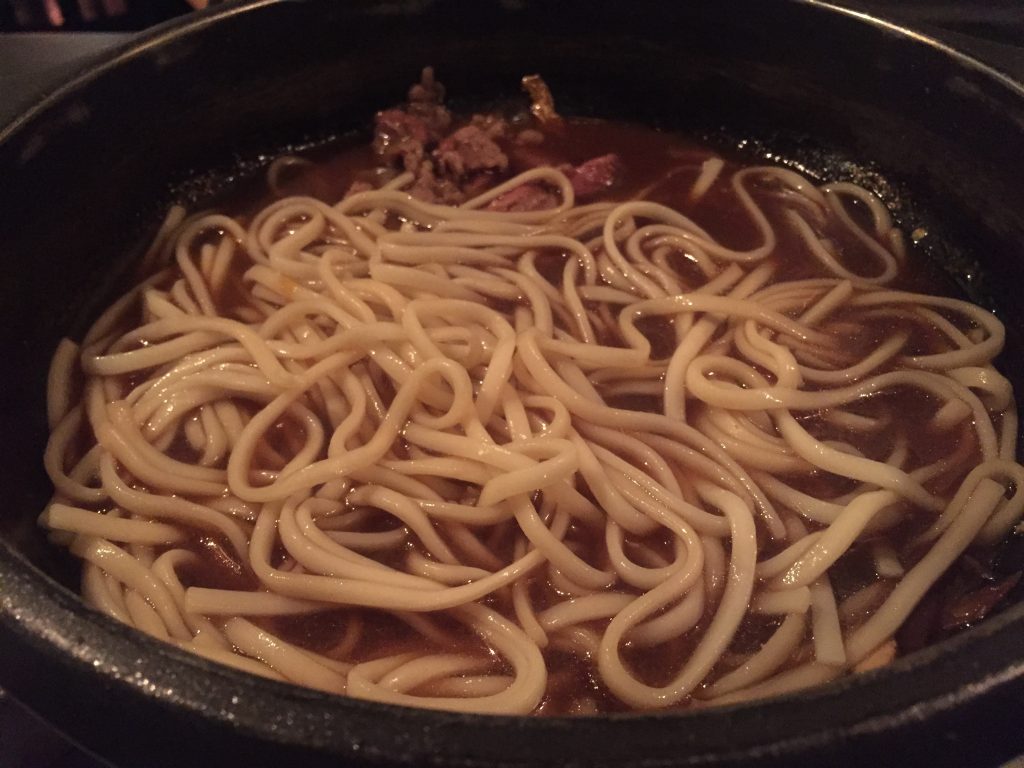 Shabu shabu is almost the same as sukiyaki, but the difference is soup stock and dipping sauce.
In stead of soy sauce based soup stock, we use clear Japanese dashi soup stock. Since the soup stock has very light taste, we enjoy different kinds of dipping sauce. Common dipping sauce in Japan for shabu shabu is ponzu (citrus and soy sauce) and gomadare (sesame sauce).

Wagyu, vegetable, fresh farm egg, and soup stock…everything served at Tokyo Sukiyaki-Tei is carefully selected. Not only wagyu was great, but also vegetable was very fresh, and the fresh farm egg was the best I've ever eaten in London!
Yakiniku: Japanese BBQ
You can also enjoy authentic wagyu as yakiniku (Japnaese BBQ) at Tokyo Sukiyaki-Tei. Wagyu will be served raw, and you can cook for yourself in front of you.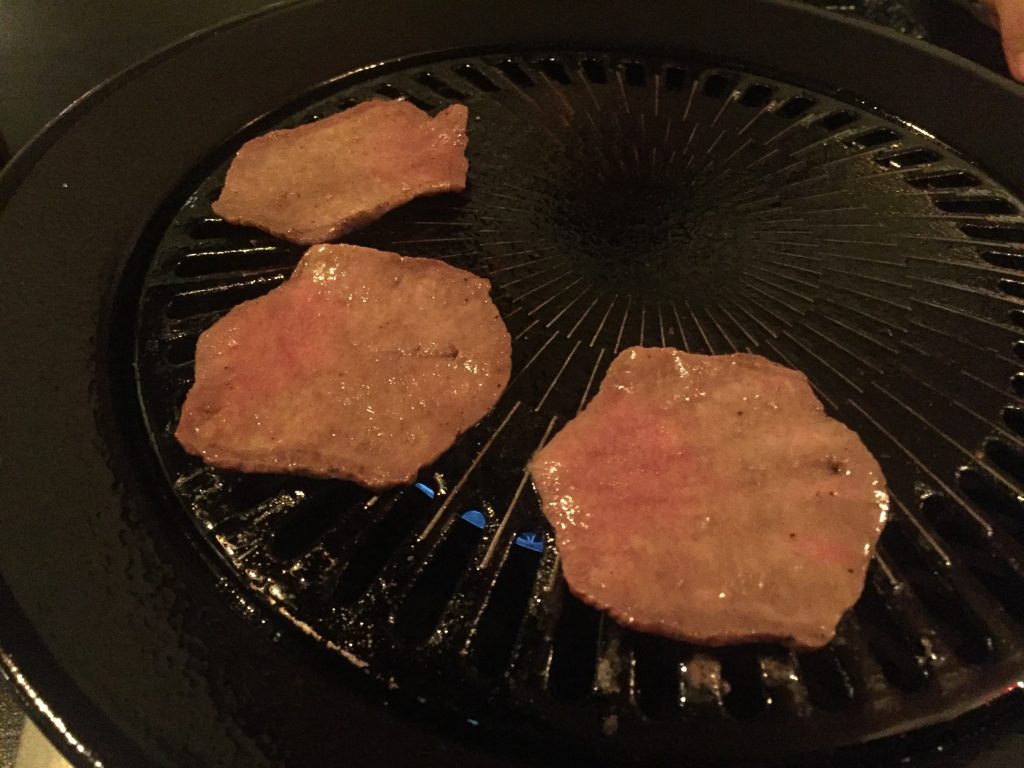 Japanese people eat not just red marbling beef, but also different parts of the beef. One popular part served at Tokyo Sukiyaki-Tei is beef tongue. It was very delicious; you should try!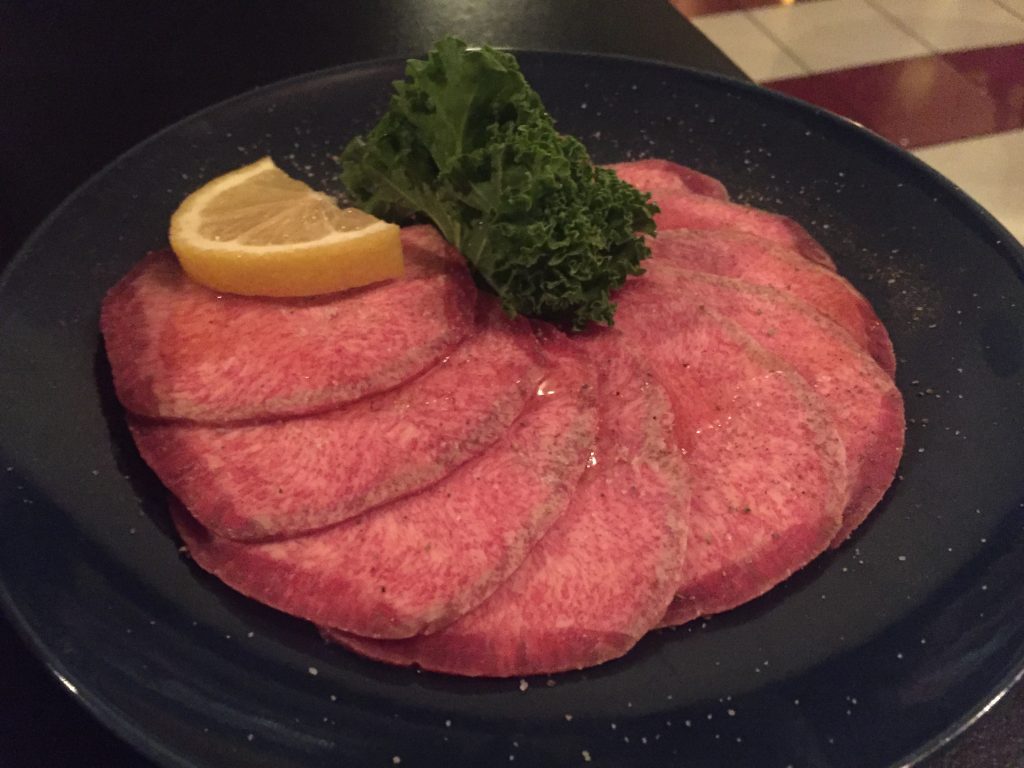 Beef tongue served at Tokyo Sukiyaki-Tei is not Japanese wagyu but very nice British beef.
Wide Variety of Japanese Sake Available
Japanese sake, famous Japanese whisky, Japanese spirits made of grains or sweet potatoes, plum wines, and Japanese beer… wide variety of Japanese alcohol drinks are available at Tokyo Sukiyaki-Tei. Wine selection is also very nice, too. Please check website for food and drink menu (http://www.tokyosukiyakitei.com/menu/).
Basic Information (as of 21 Jan, 2019)