Rating:

(I would love to go back)
Historical Japanese Matcha & Tea House from Japan
Tsuji Riemon first opened a tea house named "Tsujiri" in 1860 in Uji, Kyoto. He was very successful, and green tea from Uji became very prestigious and still is regarded as one of the best green tea production region in Japan.
There are several matcha and Japanese tea house companies that have the name "Tsujiri" in Japan: Tsujiri-Ichihonten, Gion-Tsujiri, Tsujiri-Hei-Honten, Tsujiri-Chaho etc. These tea houses have the same roots and was opened by relatives or employees of Tsujiri. London's Tsujiri is a branch of Tsujiri-Chaho, which was first opened as a branch of Tsujiri-Ichihonten's branch in Ogura, Fukuoka, and later became different company.

I've had matcha in several Japanese cafes in London, but matcha here is the best so far. Matcha desserts made with finest matcha and ingredients are also very good and definitely have Japanese quality.

Related Page
London Japanese Restaurant Ranking by Japanese
Matcha Dessert: Matcha Sandae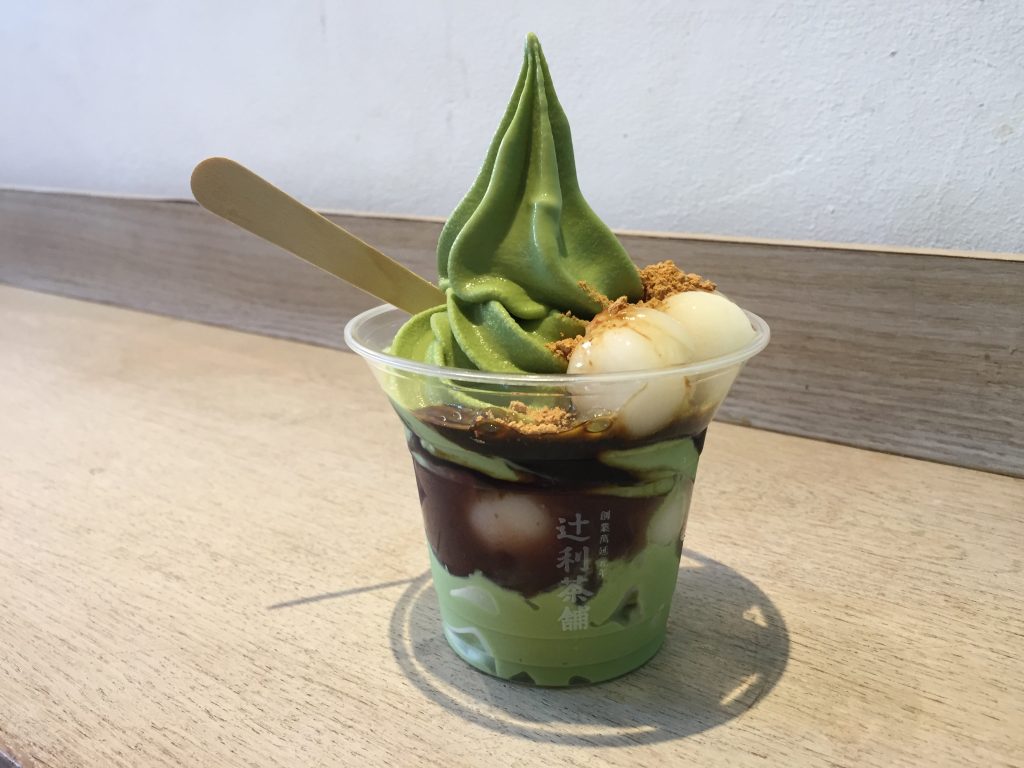 Shiratama Sandae
There are several types of matcha sandaes. The one that I've had is Shiratama Sandae. Shiratama is a type of white mochi often used in Japanese desserts.
The base is matcha soft-serve ice cream. You can feel the full flavor of matcha. Matcha ice cream is not so sweet, but I believe Tsujiri is intentionally making it that way to bring out the taste and flavor of matcha.
Other Japanese toppings add little more of sweetness to make the sandae perfect: kuromitsu (brown sugar syrup), anko (sweet azuki bean paste), and kinako (roasted soy bean powder). I was surprised by the quality of each of toppings; all of the toppings tasted just like the best ones in Japan!
Finest Matcha and Japanese Tea Available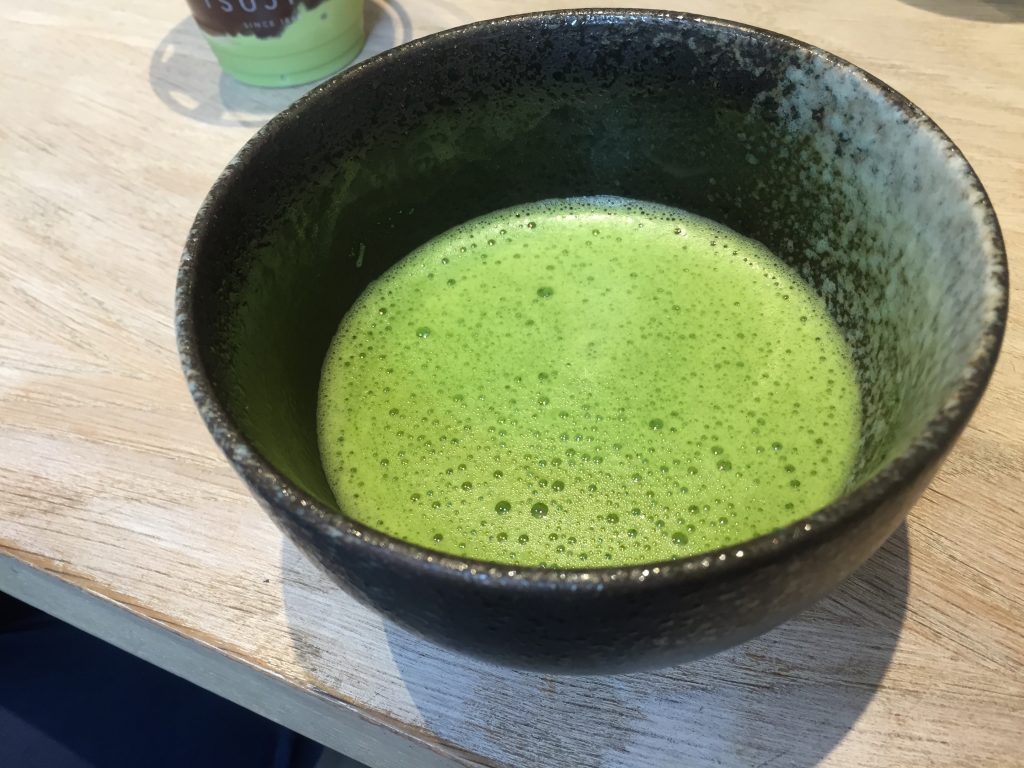 O-Matcha
Since Tsujiri is a tea house, of course, the matcha here has the finest quality. It is the best I've had so far in London.
If you go to authentic Japanese matcha tea house in Japan, you will know that there many different grades of matcha for different occasions. The best grade is for tea ceremony. There are matcha grades for practicing for tea ceremony and making matcha dessert. Usually, high grade matcha tastes sweeter than the lower grade. O-matcha served at Tsujiri London is a ceremonial grade matcha from Uji, Kyoto, which is the best grade matcha produced in one of the famous matcha production region in Japan.

There are also matcha latte and other Japanese teas. Matcha is made by mixing the matcha tea leaf powder and hot water. Sencha is a brewed green tea, and basically, the tea leaf is same as matcha but is not a powder. Houjicha is a brewed roasted green tea. Since it is roasted, it has brown color. Genmaicha is a brewed brown rice green tea. It is made by adding roasted popped brown rice to green tea leaf.
You can also buy loose leaf teas at Tsujiri London.
Basic Information (as of 12 Jan, 2019)
There are two Tsujiri branches in London.
Some menus are exclusive at each branch.
Soho
Houjicha soft serve and shaved ice are exclusive to Soho branch.

Chinatown
Super strong matcha ice cream is exclusive to Chinatown branch.