Okinawa is southernmost islands of Japan. Because of its location and distinct history, Okinawa has a lot of food that are not typical in mainland of Japan.
Listed below are Okinawa-typical food and drink you must try when you visit Okinawa!
List
1. Green Caviar/Sea Grape
Japanese: 海ぶどう (umi budo)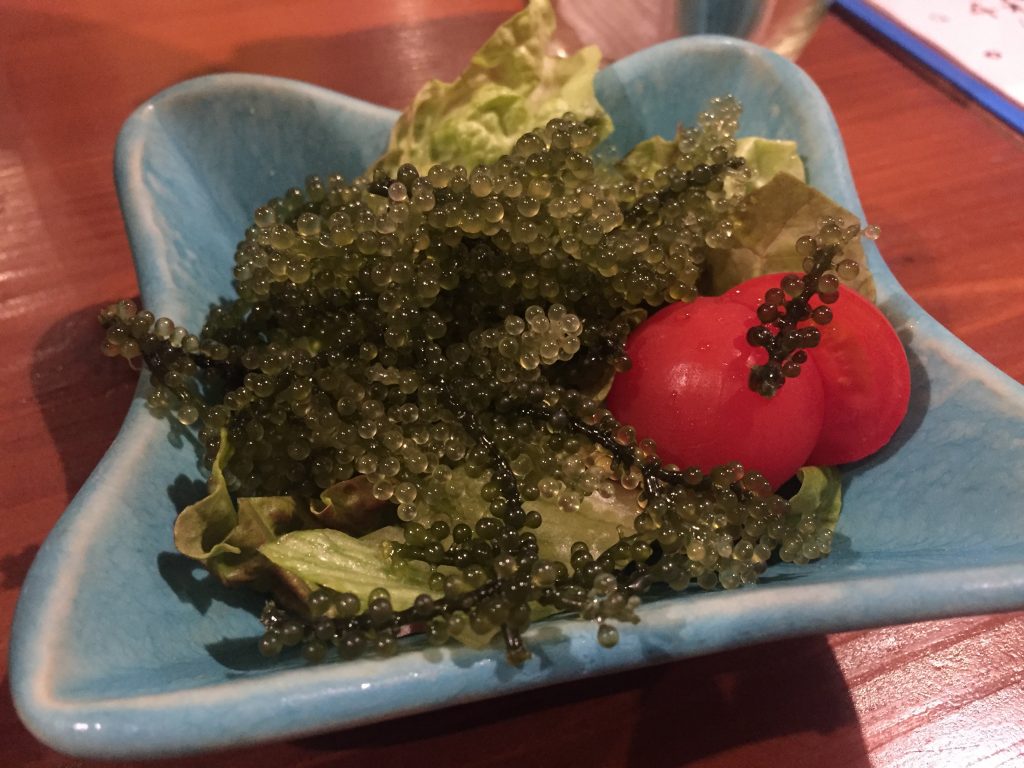 Green caviar or sea grape is a type of seaweed eaten in Okinawa, so it is not fish roe or fruit at all. It just looks like them. When you try it, its texture is funny; it pops! Green caviar is usually eaten with soy sauce or with vinegar sauce. It is also used as a topping of salads.
Green caviar is sensitive to low temperature, so it loses its popping texture when it is cooled. Do not put it the fridge when you buy it.
2. Mozuku
Japanese: もずく (mozuku)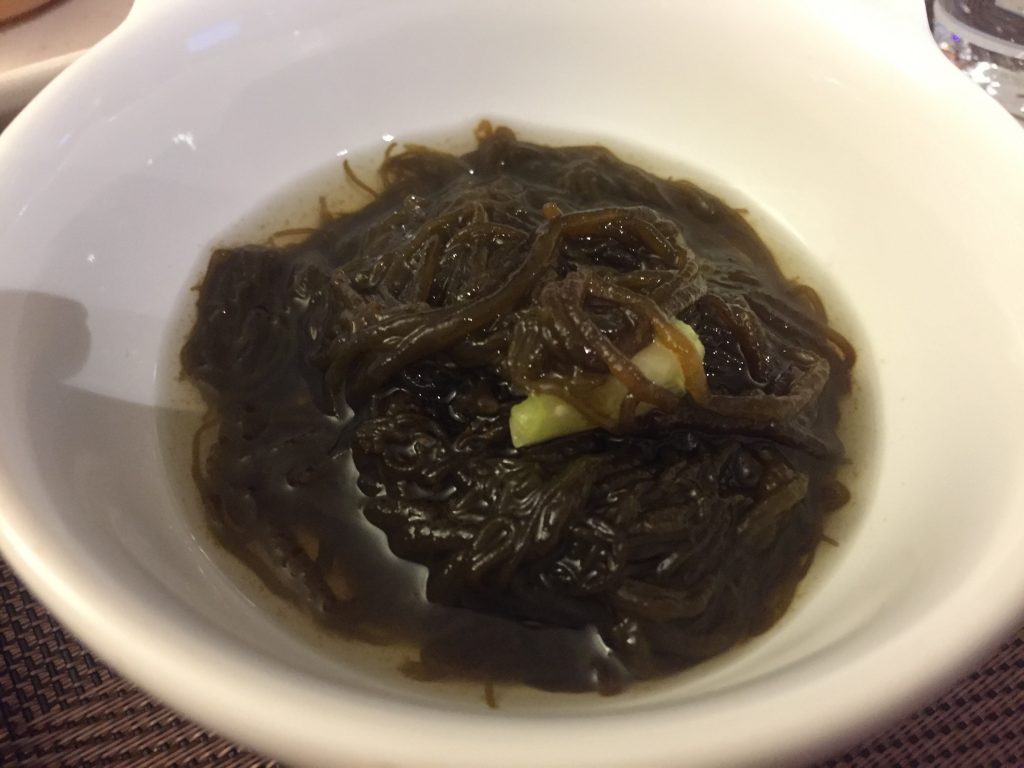 Mozuku is another type of seaweed common in Okinawa. This noodle-like seaweed is usually eaten in vinegar sauce (mozuku-su; "su" means vinegar in Japanese). There are also other dishes like mozuku tempura and mozuku soup.
Because mozuku is rich in minerals and has low calories, it is regarded as a healthy food.
3. Ishigaki Wagyu
Japanese: 石垣牛 (Ishigaki gyu)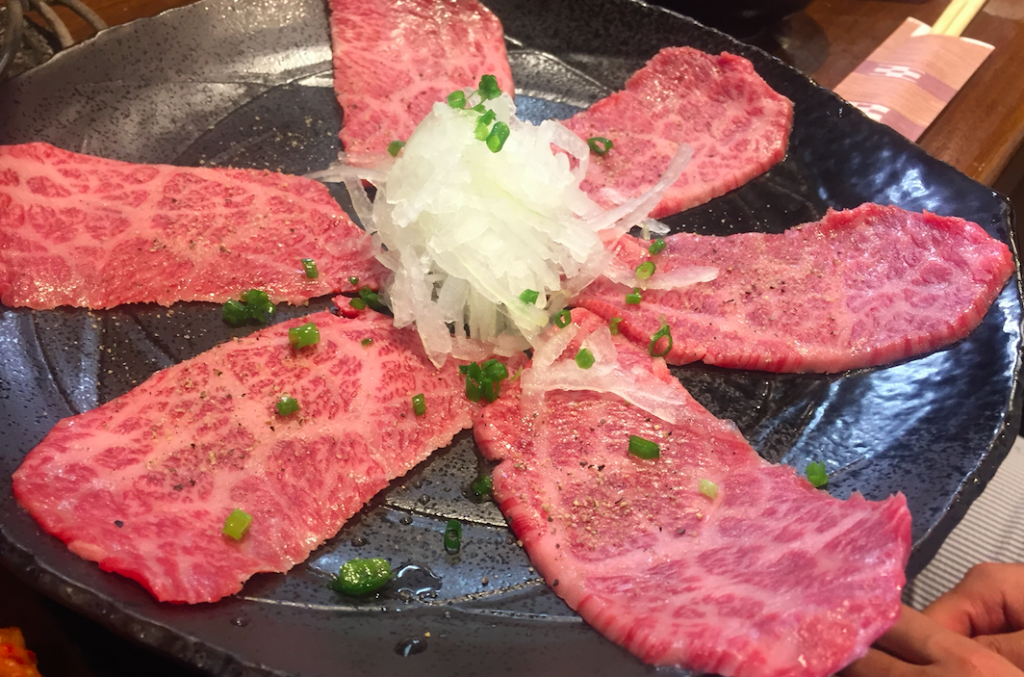 Wagyu is a cattle breed that originates in Japan. Wagyu is totally different from the beef that you have been used to eating; wagyu is said to "melt in your mouth" because it contains more monounsaturated fat which melts at lower temperature. Ishigaki wagyu is a branded wagyu in Japan. It must be raised in Yaeyama District of Okinawa, and all Ishigaki wagyu is 100% Japanese black breed cattle, which is known for beautiful marblings, tenderness, and juiciness.
Learn more about wagyu at Wagyu Authentic (wagyu-authentic.com)
4. Agu Pork
Japanese: アグー豚 (agu buta)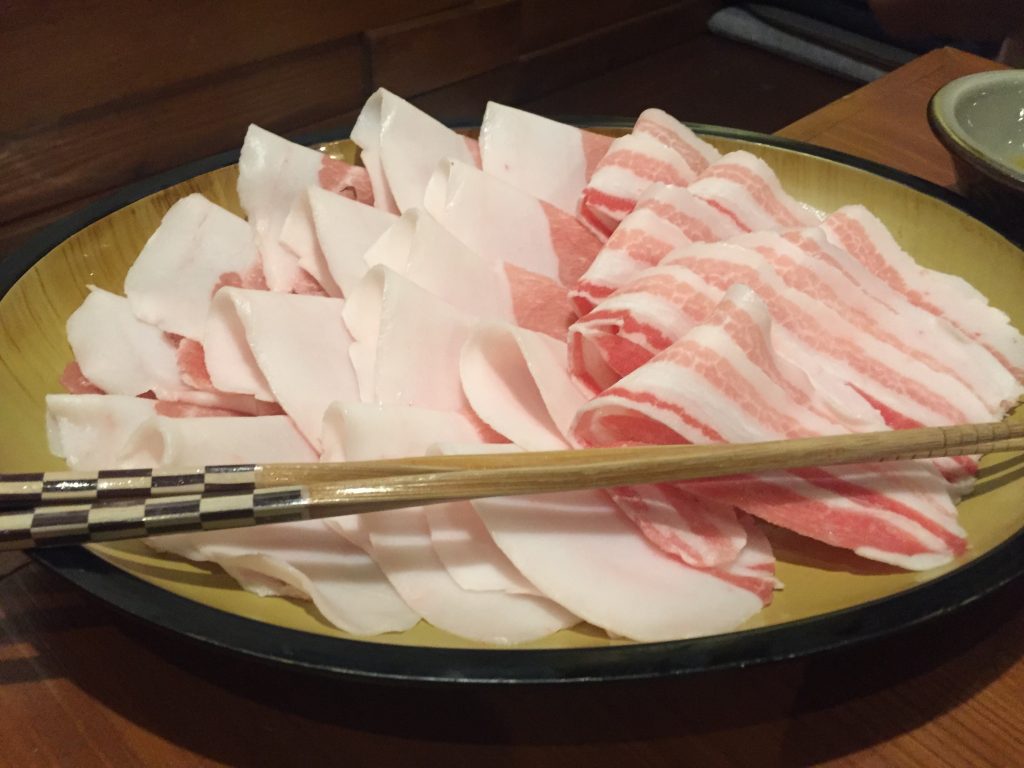 Agu is an indigenous pig of Okinawa. Although the number of Agu is few because of the limited availability of the breed, it is well-known in Japan as marbling pork. Its marbling (the white flecks of fat) has sweetness and is very juicy and tasty. I recommend to eat it as shabu shabu, a type of hotpot where you cook thin sliced pork and vegetables in boiled soup stock.
5. Irabucha
Japanese: イラブチャー (irabucha)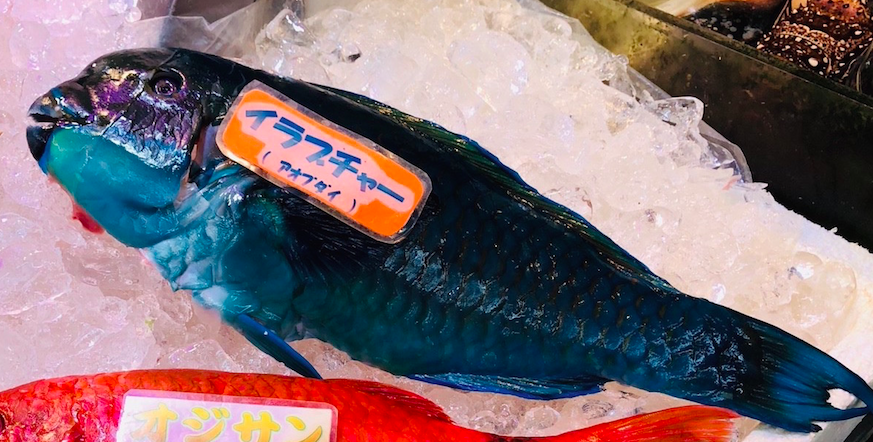 If you go to fish market and/or restaurants in Okinawa, you would probably find a type of blue parrotfish called "Irabucha" in Okinawa. It is very good for sashimi (raw fish). Fried Irabucha is also nice.
It is said that Irabucha does not have toxins in its guts, but some other types of blue parrotfish caught in Okinawa have toxins in its guts. Please do not cook blue parrotfish for yourself. Enjoy Irabucha at restaurants for your safety!
6. Bitter Melon Chanpuru (Stir Fry)
Japanese: ゴーヤーチャンプルー (goya chanpuru)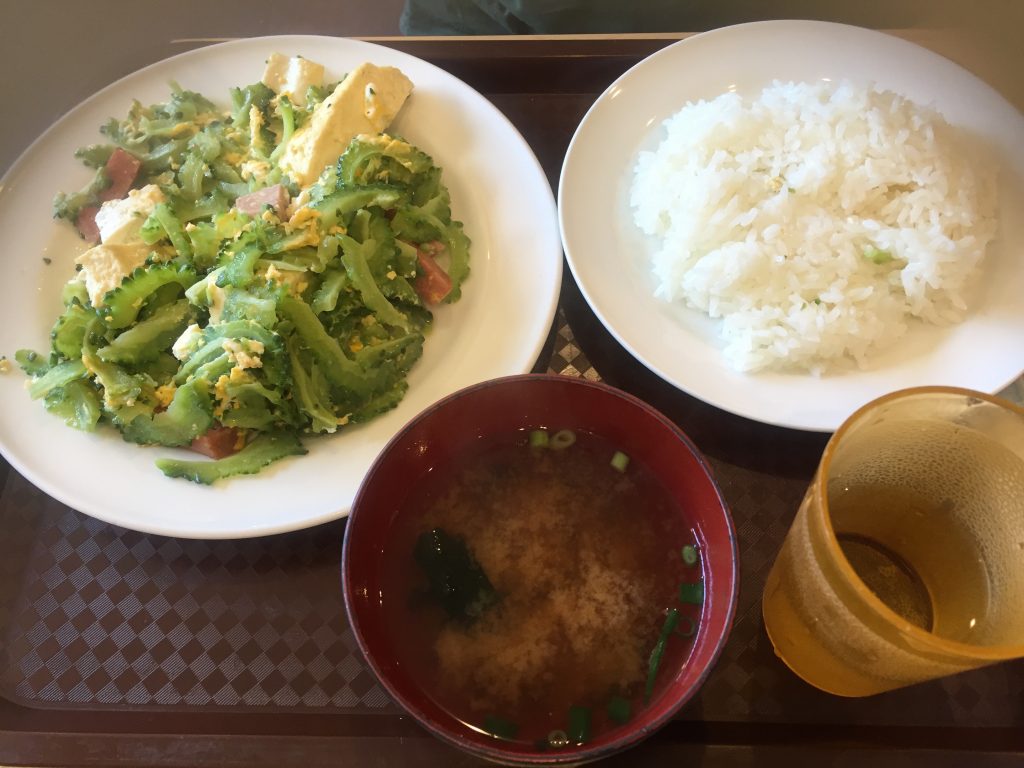 Goya means a bitter melon, and chanpuru means stir fry in Okinawa dialect. Goya is green fruit often used in dishes of Okinawa and other southern part of Japan. Name "bitter melon" comes from its taste, and it is pretty bitter. Some Japanese doesn't like it either; if you don't like bitter taste, order tofu chanpuru (soy bean curd stir fry) if you want to try chanpuru.
7. Okinawa Soba
Japanese: 沖縄そば (Okinawa soba)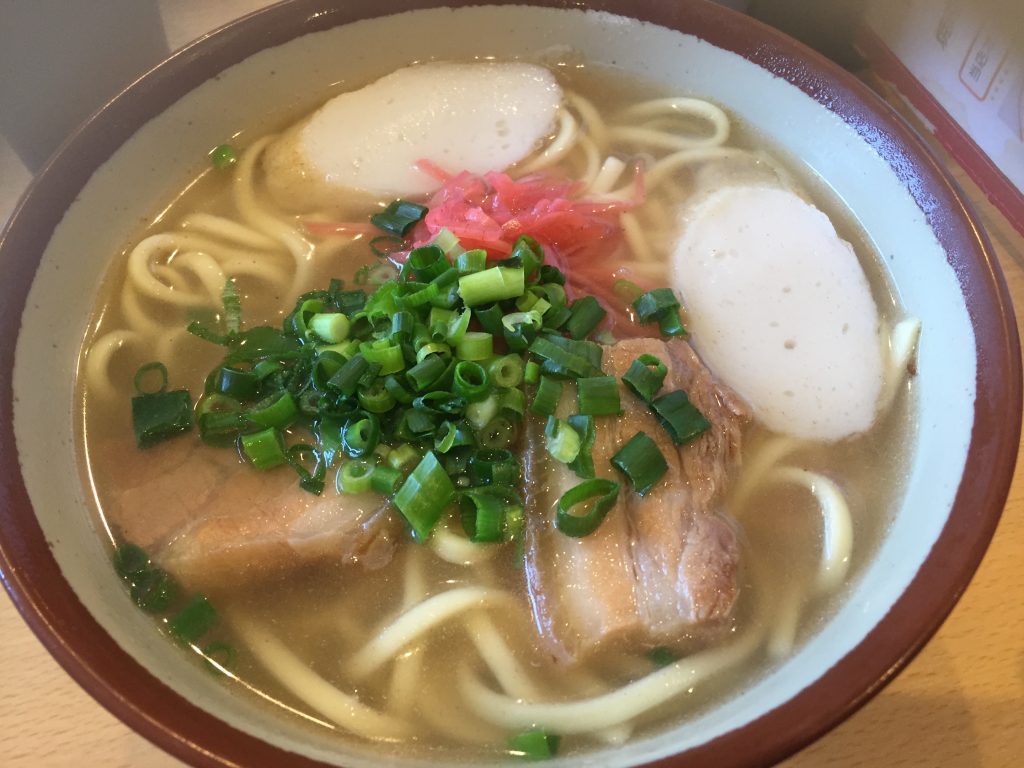 Okinawa Soba is a Okinawa typical noodle in soup. It is usually regarded as a type of ramen, but it actually tastes like udon; its soup is more close to udon-like Japanese soup stock, and not as oily as ramen. Noodles are often thicker than typical ramen like udon, too.
The common topping for Okinawa soba is called "soki" meaning "spare ribs" in Okinawa dialect. It is braised for hours in soy sauce based soup, and it becomes so soft that you can even eat cartilages (soft bones)!
8. Awamori
Japanese: 泡盛 (awamori)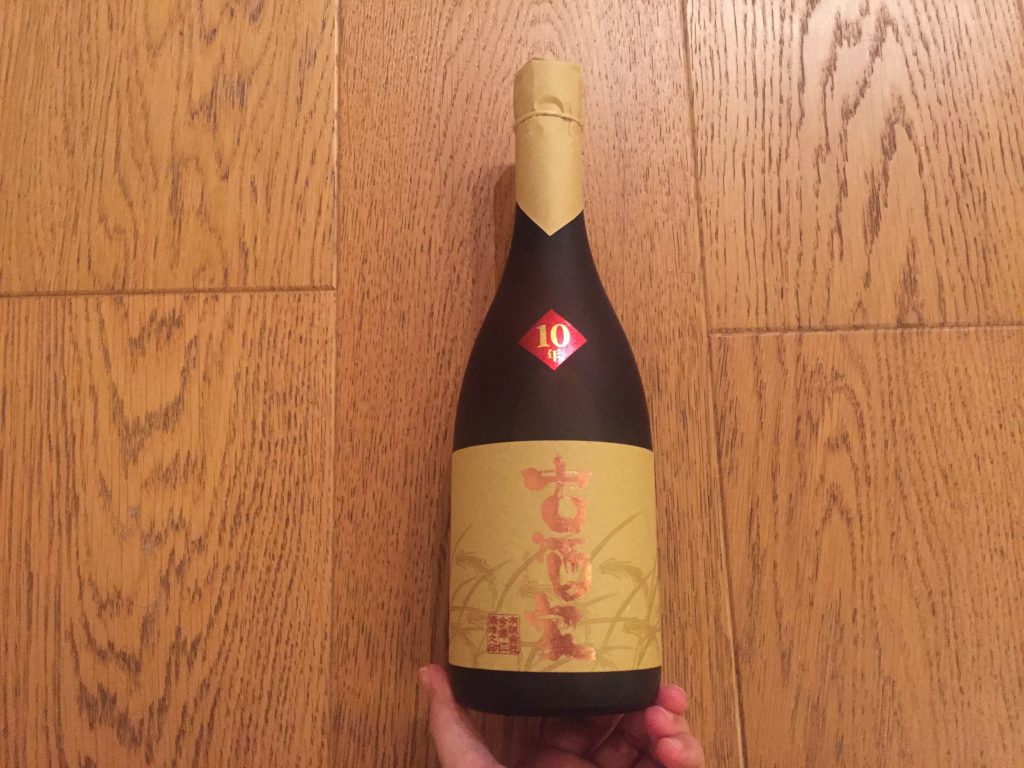 Awamori is a rice-based distilled spirit of Okinawa. Awamori aged more than three years is called "Kusu" (古酒 meaning "old liquor"). It is usually enjoyed by adding water and ice, but it could also be enjoyed on-the-rock, as a liquor of cocktails etc.
Since it is spirit, alcohol percentage is pretty high and is about 20%, or even as high as 40%. Be careful when you enjoy!
9. Habu Spirit
Japanese: ハブ酒 (habu shu)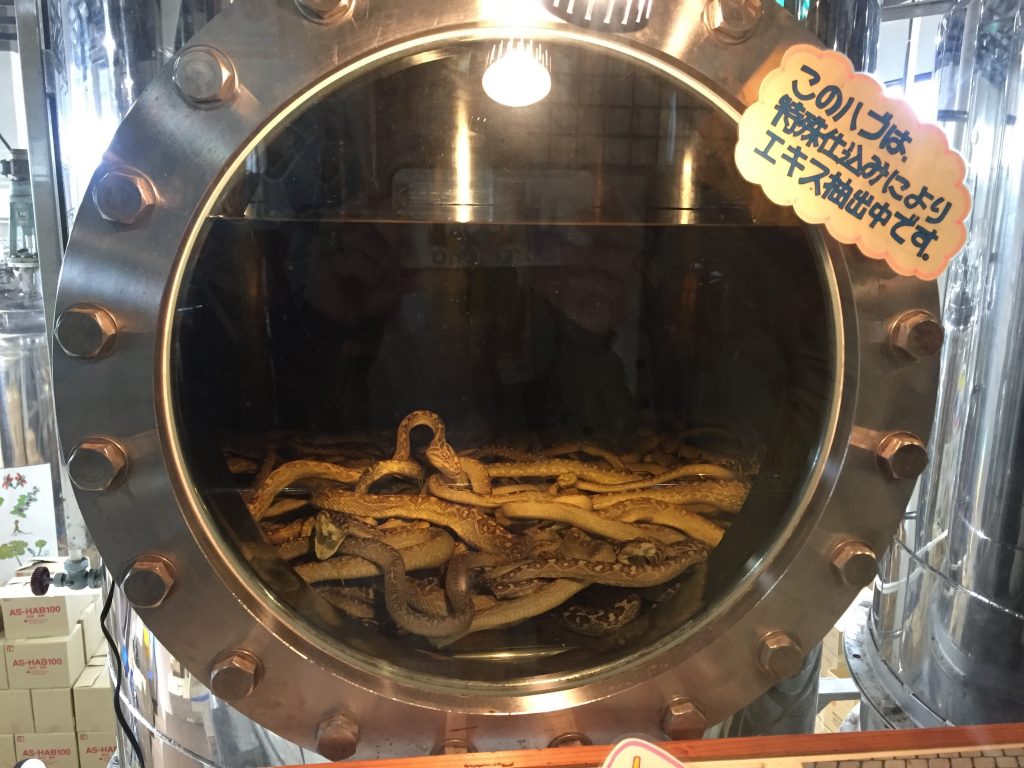 Habu is a type of snake living in Okinawa region. It has venom, so if you are bitten by habu, you must go to hospital as soon as possible.
Habu spirit is a habu-soaked spirit. Even though habu has venom, habu spirit is not toxic. It is actually regarded as energy drink and is believed to have viagra-like effect for men (even though it has no scientific proof).
10. Buku-buku Tea
Japanese: ぶくぶく茶 (buku-buku cha)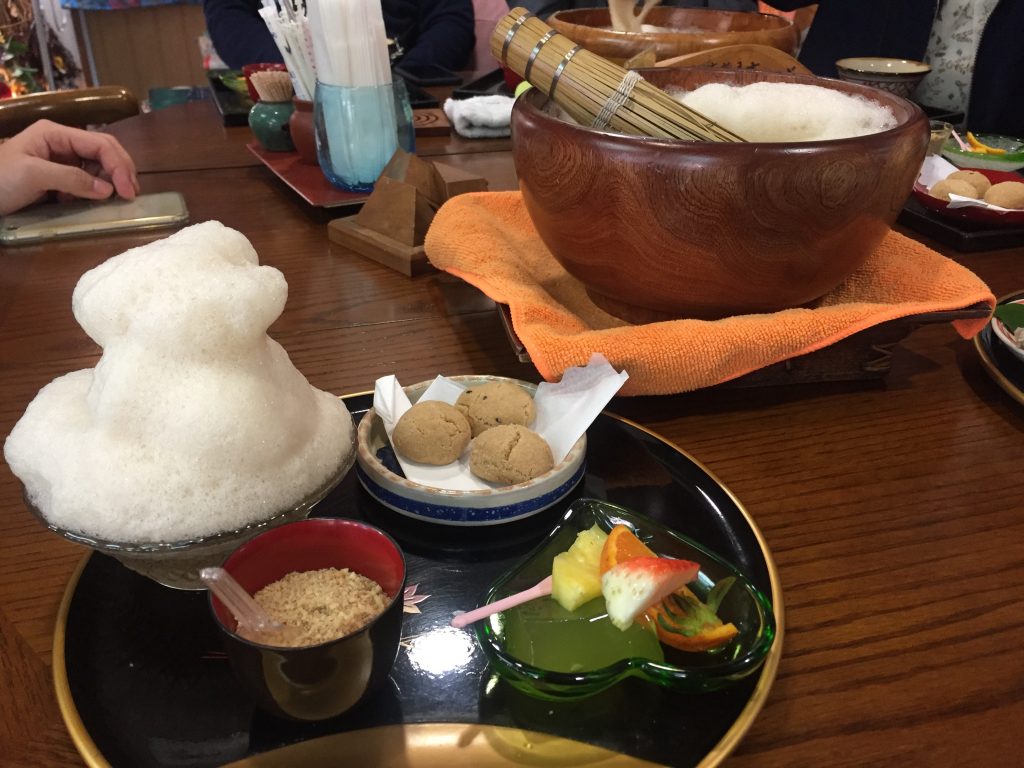 Buku-buku is an onomatopoeia for "bubble" so buku-buku tea means "bubble tea" in Japanese. Bubble tea is usually known as tea with tapioca pearls, but Okinawa bubble tea is really bubbled up!
Bubbles are made from roasted rice extract and mineral-rich hard water. Base tea could be anything, but I would recommend "sanpin cha (sanpin tea)" which is Jasmine tea very common in Okinawa.
11. Shequasar Lemon
Japanese: シークヮーサー (Shikuwasa)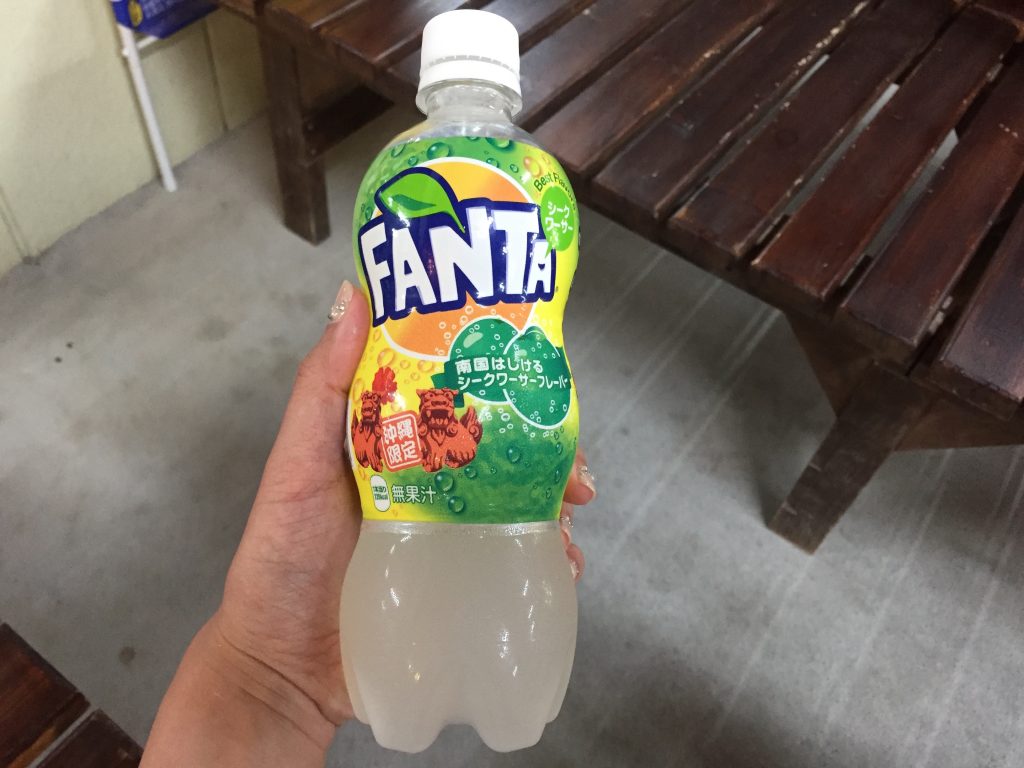 Shequasar is a small green citrus in Okinawa. Shequasar is Okinawa dialect, and is sometimes translated to hirami lemon or flat lemon. It is used like a lemon in Okinawa: to garnish dishes, as a flavor for soda, cocktails, jams etc.
When I visited Okinawa, I found shequasar lemon Fanta only sold in Okinawa!
12. Koregusu (Okinawa Chili Sauce)
Japanese: コーレーグス (Koregusu)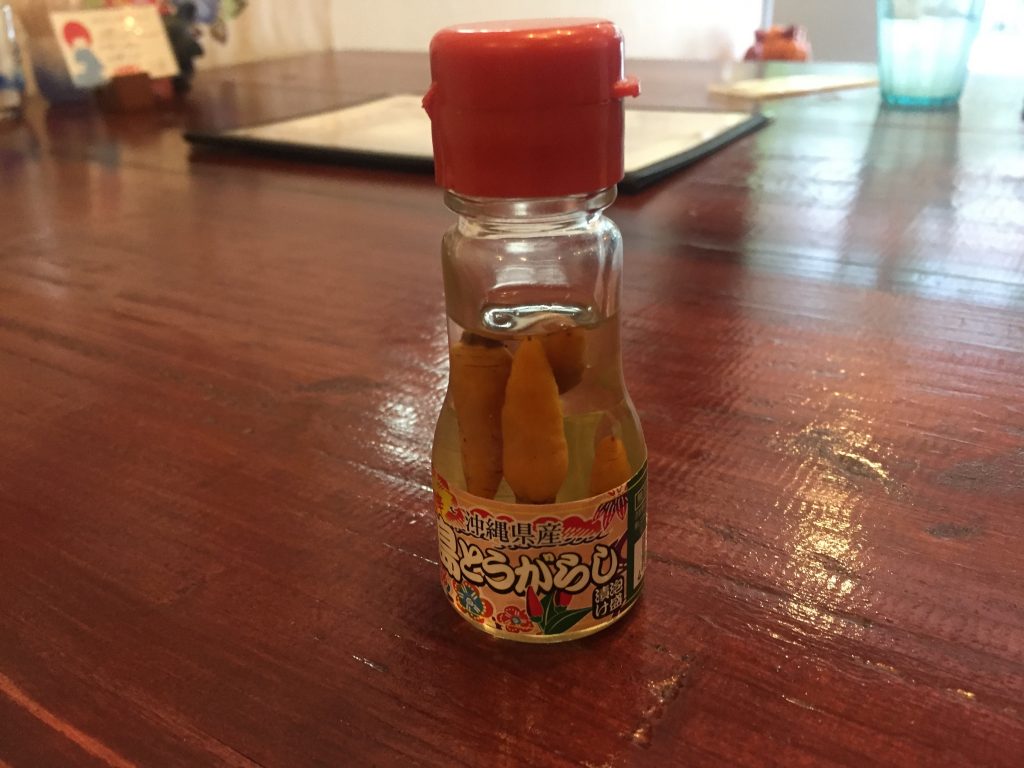 Koregusu (Okinawa chili sauce) is very spicy sauce made by infusing chili pepper in awamori (Okinawa rice-based spirit). It is table condiment in Okinawa and is used to spicing up Okinawa soba and chanpuru (Okinawa stir fry). Some people add Koregusu to miso soup, and to soy sauce when they eat sashimi (raw fish).
Since it is mostly awamori, it has high alcohol content. Be careful of koregusu; it is not just spicy but you can also get drunk if you put it too much!
13. Jimami Tofu (Peanut Tofu)
Japanese: ジーマーミ豆腐 (Jimami-dofu)
While tofu is made from soy, jimami tofu is made from peanut. Jimami means peanut in Okinawa dialect. Jimami tofu is usually eaten with sauce, and depending on what kind of sauce you put, it could be side dish or even dessert! If you put soy sauce or Japanese dashi soup, it becomes side dish. You can enjoy with sugar or molasses to make it a dessert.
Since it is made from peanuts, do not eat if you are allergic to peanuts!