Rating:

(I've gone back several times)
Kanada-Ya is famous tonkotsu ramen restaurant in Japan
Mr. Kanada, who was once a professional bicycle racer, is the founder of Kanada-Ya. He first opened his ramen restaurant in Fukuoka, Japan. Fukuoka is located in southern part of Japan and is known to have many great tonkotsu ramen restaurants. Among these tonkotsu restaurants, Kanada-Ya stood out and became very well-known; Kanada-Ya gradually became one of the best tonkotsu ramen restaurant in Japan.
Kanada-Ya opened its restaurant in London in 2014. I have not been able to visit Kanada-Ya in Japan, but I believe that Kanada-ya in London kept Japan quality in terms of taste and service. I often go to Kanada-Ya to eat ramen.
Related Page: London Japanese Restaurant Ranking by Japanese
Bubble Tonkotsu Ramen
One of the characteristic of Kanada-Ya's ramen is that its soup has bubbles. Tonkotsu ramen with bubbles is rare in Japan, so I first doubted if these bubbles were meant be there…but it was. Tonkotsu soup in Japan is usually thik and oily (and sometimes bit smelly because of pork), but Kanada-Ya's soup is light but has deep taste. I wonder how Mr. Kanada has found this great balance!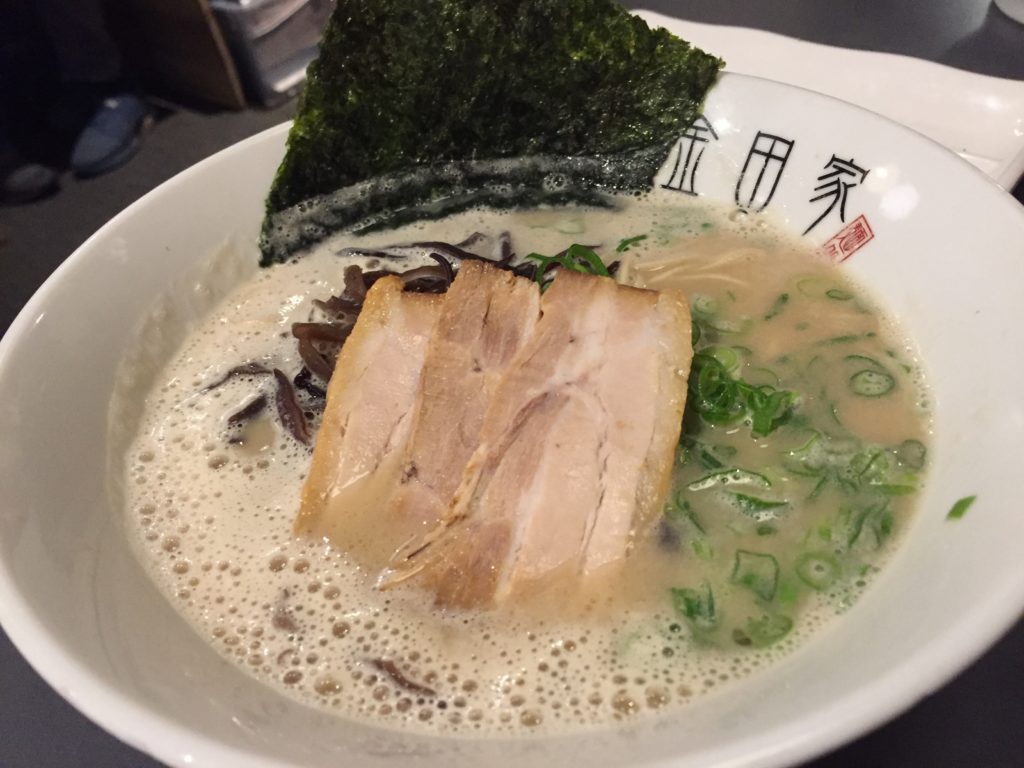 Tonkotsu 10.50 GBP
You can choose the hardness of noodles, which is typical custom in ramen restaurants in Japan.
Chashu (pork topping) is very tender. Wood ear fungus (you may not have eaten or seen before, but it is very common topping for tonkontsu ramen in Japan) matches well with Kanada-Ya's soup. Seaweed and spring onion are also common toppings in Japan and matches well.
Noodle, soup, toppings… everything is well-balanced and tastes perfect!
You can also choose to have extra toppings. I recommend to order hanjuku egg, which is soft-boiled burford brown egg cured in chashu soup.
On the table, there are several free toppings that you can use to change taste as you eat ramen. Red ginger, takana (pickled mustard leaf), and sesame with grinders… all of these are common in tonkotsu ramen restaurants in Japan. I feel authentic Japanese atmosphere from these toppings, too.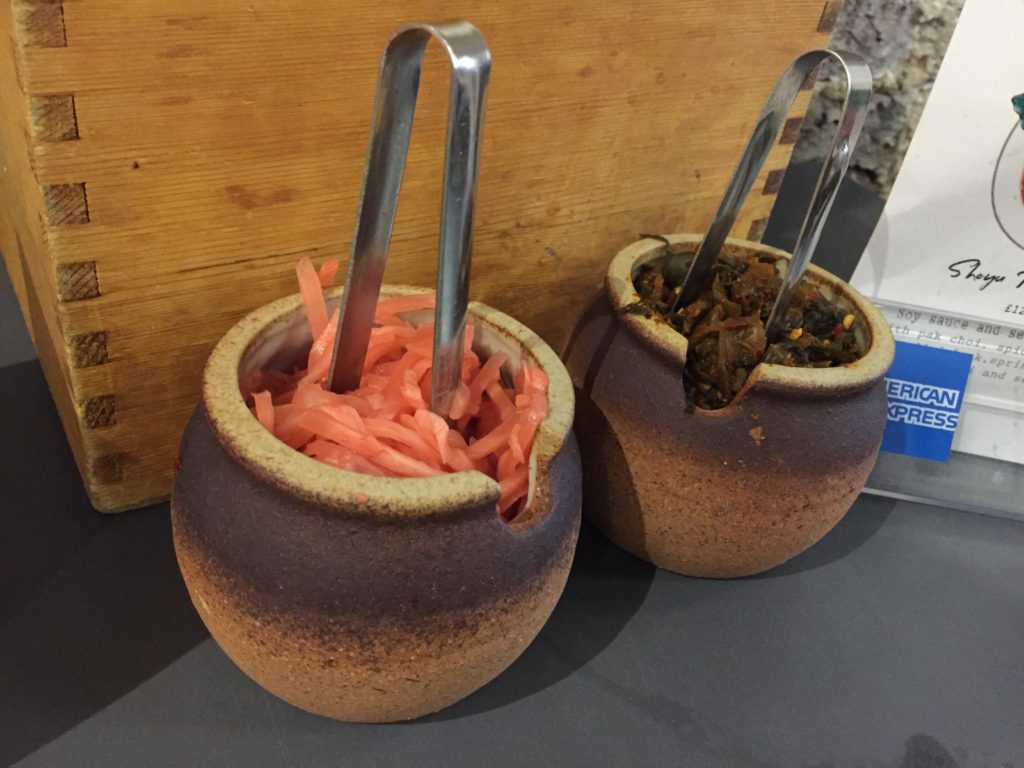 Takana (on the right) is pretty spicy, so be careful!
Chashu-Men is full of chashu!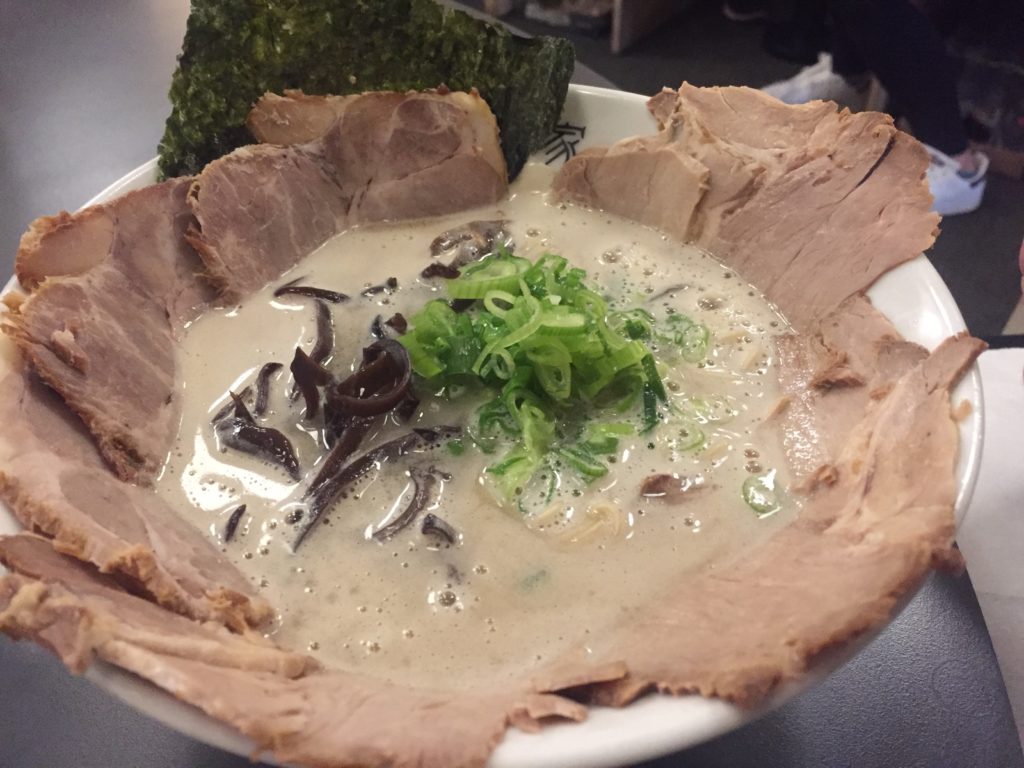 CHASHU-MEN 13.00GBP
What a instagrammable ramen with full of chashu! If you love chashu and are hungry, this is the one to order.
Truffle Ramen: a luxurious ramen only served in London branches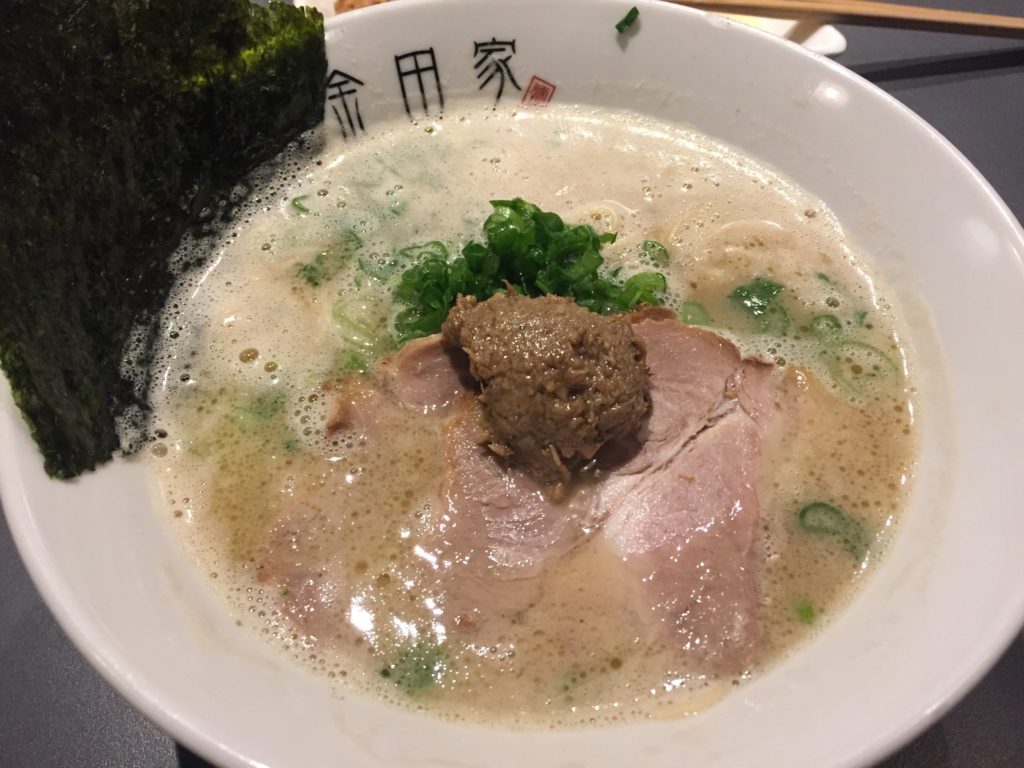 Truffle 14.00GBP
Truffle ramen is a luxurious ramen with full flavor of truffle that you can feel from the moment it is served on the table. Porcini truffle paste in the middle and truffle oil create this flavor. I never thought that truffle flavor matches this well with tonkotsu ramen!
All ramen is very-well balanced and authentic Japan quality. I like the friendly service in Kanada-Ya, too. I feel Japanese atmosphere from every detail of Kanada-Ya, and I love this place.

You cannot make reservations, and there are usually long waiting line, but if you go 10 minutes before opening time, you won't wait much.
Basic Information (as of 23 Oct, 2018)
There are three Kanada-Ya branches in London.
Covent Garden

Haymarket

Angel