Rating:

(I've gone back several times)
Award Winning Tonkotsu Ramen from Japan
Ippudo is one of the best known tonkotsu ramen restaurant in Japan because it won many awards including a ramen competition broadcasted on TV in Japan. Same as Kanada-Ya, it originates in Hakata region (southern part of Japan) where many good tonkotsu ramen restaurants exist.
Ippudo has more than 100 branches in Japan, and its taste is loved by so many Japanese. Ippudo also has branches outside of Japan and came to London in 2014. It now has 3 branches in London.

Ippudo has been one of my favorite ramen places since I was living in Japan; I have been to Ippudo many times. Ippudo's ramen in London tastes just like the one in Japan; noodles, broth, and every topping is perfect!
Related Page: London Japanese Restaurant Ranking by Japanese
Signature Ramen: Tonkotsu Ramen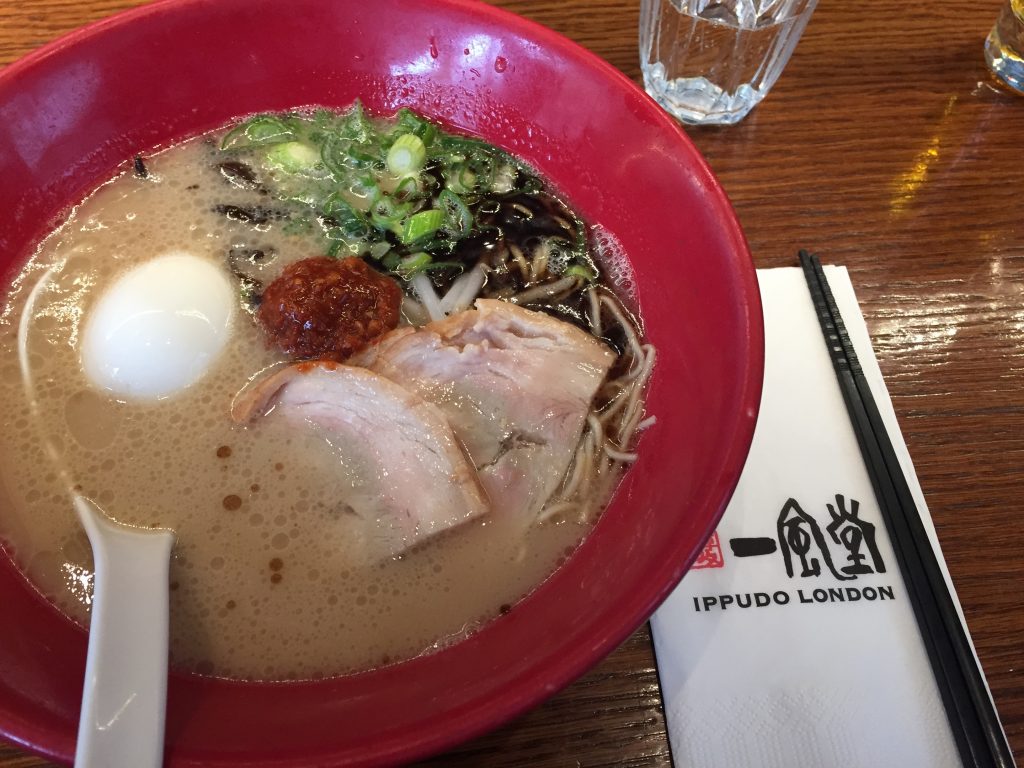 Akamaru Tamago
Of course Ippudo's signature ramen in tonkotsu ramen, and there are two types: Shiromaru Classic and Akamaru Modern.
Shiromaru Classic, standard tonkotsu ramen, is best to enjoy the silky tonkotsu broth flavor. If you are ramen lover looking for something special in Ippudo, you should try Akamaru Modern. Akamaru Modern has topping of special-blended miso paste and fragrant garlic oil, specialities of Ippudo.
I personally like to add soft-boiled egg, which is typical topping in Japan. If you are big eater, try Kaedama, a typical custom in Japan where you can order additional noodles. Only noodles come, so be sure not to eat soup too much if you want to try Kaedama.
New Ramen: Miso Ramen (from 5 Nov. 2018)
This miso ramen is a new ramen available now at Central Saint Giles branch only. Miso ramen is a another type of ramen where miso paste (the same paste used to cook miso soup) is used for broth. There are many ramen restaurants in London, but I think it is very rare to find good miso ramen!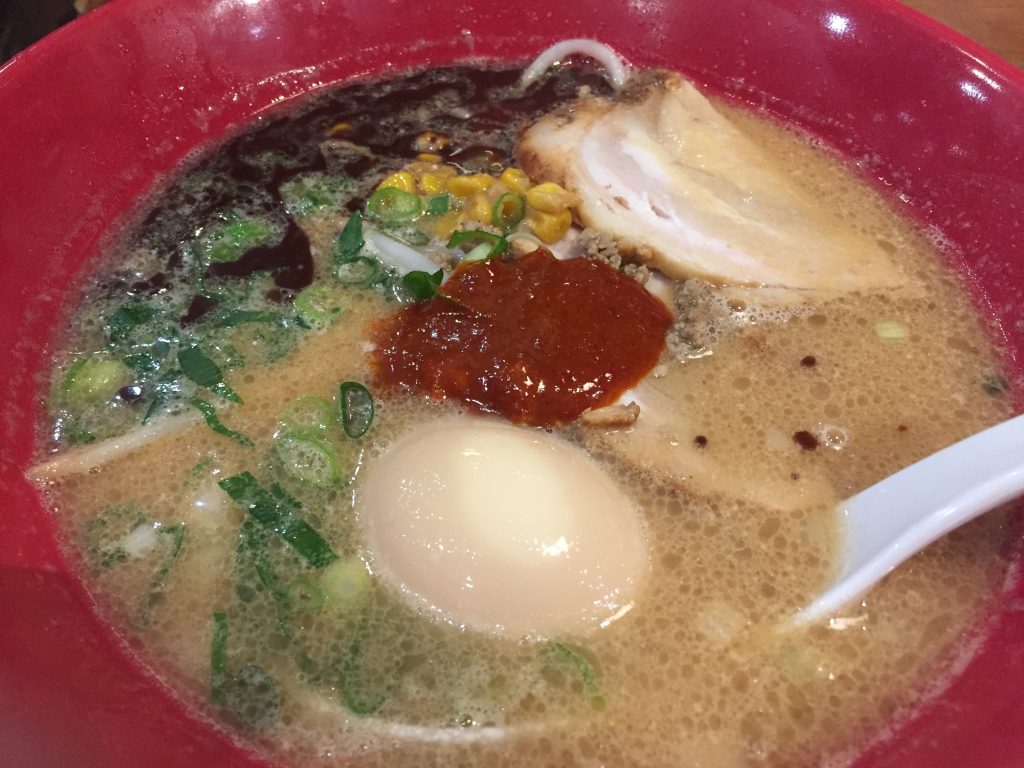 Miso Akamaru with soft-boiled egg
Appetizers and side dishes are also great!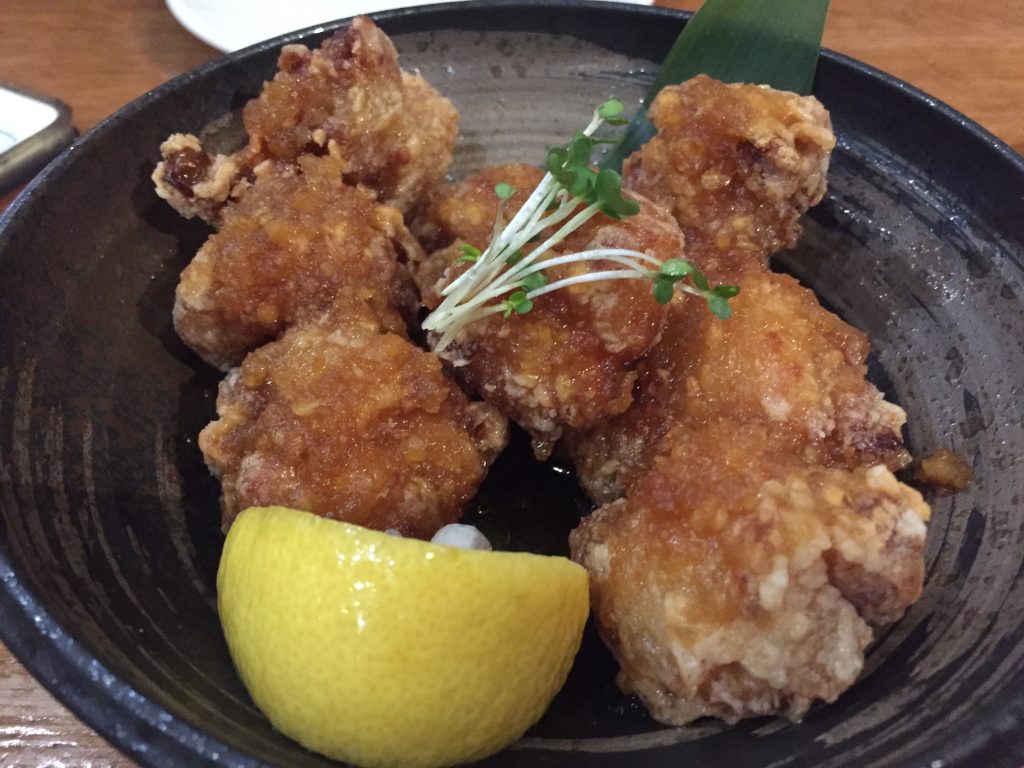 Tori Kara-age
Typical side dish that many Japanese people order with ramen is yaki gyoza, but there are varieties of Japanese appetizers and side dishes in Ippudo London. You can even try authentic Japanese wagyu, which is known for marbling beef.
Learn more about wagyu at wagyu-authentic.com
Basic Information (as of 2 Jan, 2019)
There are three Ippudo branches in London.
For additional information, visit http://www.ippudo.co.uk
Central Saint Giles
| | |
| --- | --- |
| Name | Ippudo Central Saint Giles |
| Address | 3 Central Saint Giles Piazza, St Giles High St, London, WC2H 8AG |
| Telephone | +44 (0)20 7240 4469 |

Canary Wharf
| | |
| --- | --- |
| Name | Ippudo Canary Wharf |
| Address | Unit CR 28, Level Minus One Crossrail Station and Retail Mall, 1 Crossrail Place, London, E14 5AR |
| Telephone | +44 (0)20 3326 9485 |

Villiers Street
| | |
| --- | --- |
| Name | Ippudo Villiers Street |
| Address | 31A Villiers Street, London, WC2N 6ND |
| Telephone | +44 (0)20 3667 1877 |
Reference:
http://www.ippudo.co.uk/
https://food-stadium.com/feature/21235/ (Japanese)